Toy Wars PSP
From GameBrew
Toy Wars
General
Author
davidgf
Last Updated
2011/05/30
Type
Action
Version
0.6
License
Mixed
Links
Download
Website
Toy Wars is a game inspired in the SEGA Dreamcast game Toy Commander. The game is about some toys which fight for the control of the house. It takes place in various rooms like the original.
This was submitted to the Retro Coding Compo 2010 (Retro GAME, 2nd place), the Scenery Beta 2010 (PSP Games, 1st place), the Neo Retro Coding Compo 2011 (Wii/GC Game, 7th place) and PSP Genesis Competition 2011.
User guide
In the game you can control various vehicles such as helicopters, tanks, cars, etc. Some of them will have weapons with which you can fight the other vehicles, and all this happens in a huge room , which will be your play space.
At the moment there are only a few missions are available, but the house is nearing completion.
The game has an online rank available at rank.toywars.davidgf.net where you can upload your high scores.
Controls
Analog - Movement and pointer
D-Pad - Menu movement and camera
Cross - Main shoot
Circle - Secondary shoot
Triangle - Change vehicle (combine with D-Pad left/right)
Square - Weapon change (combine with D-pad, up/down/left/right)
Start - Pause and menu
L/R - Accelerate, deaccelerate and brake (at the same time)
Screenshots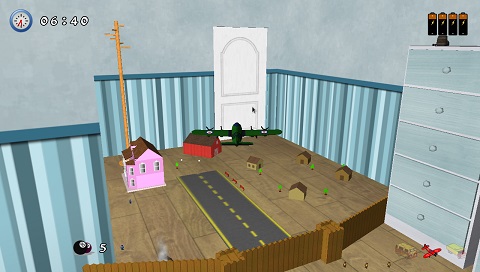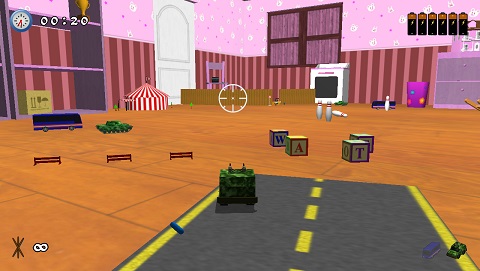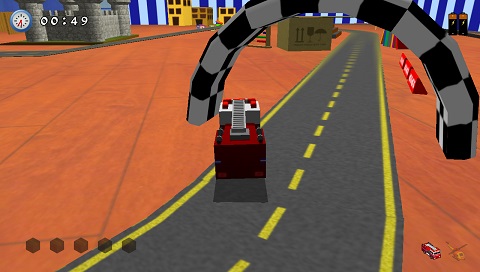 Media
Toy Wars 28/03/10 (davidgf)

Toy Wars - Scenery Beta 2010 Demo Edition (davidgf)

Toy Wars Neo Flash Edition (davidgf)

Compatibility
Tested on 6.38 ME3 and 5.03 with chickhen.
The PSP must be capable of running encrypted prx kernel modules, so no user mode.
Known issues
Some bugs may be visible and the online rank may not work sometimes. At this moment there may be some bugs related to the menu.
When playing for a long time (entering leaving the menu) the PSP may crash due to memory fragmentation errors, as Toy Wars consumes sucks a lot of memory.
Changelog
Version 0.6 (genesis v2)
Version presented for the PSP Genesis Competition.
The house is almost finished, but there are still few missions available.
In-game music and menu fixes.
Version 0.2 Beta Scenery
Now with Missions.
Now with sound.
Graphics and gameplay improvements.
Now in English and Spanish.
Participate in the Scenery Beta 2010.
VDemo
It has some bugs with the vehicles.
There are no missions.
It has no sound.
Credits
Everything in the game was made from scratch or contributors and all the materials are from a public domain source.
External links