Tomodachi Collection - New Life 3DS
From GameBrew
Tomodachi Collection: New Life Translation
General
Author
J-Lin (Fuffley)
Last Updated
2022/03/07
Type
Translations
Version
0.05
License
Mixed
Links
Download
Website
Source
This is a partially translated English patch for Tomodachi Collection: New Life.
Features
Descriptions for clothes.
Part of menu.
Installation
This patch is specifically for the Japanese version.
Extract romfs.zip into a folder named romfs onto sd:/luma/titles/000400000008C500/. Create the folders if they do not exist.
While turning on your 3DS, hold Select. Then go down to enable game patching. Press A and then press Start.
Screenshots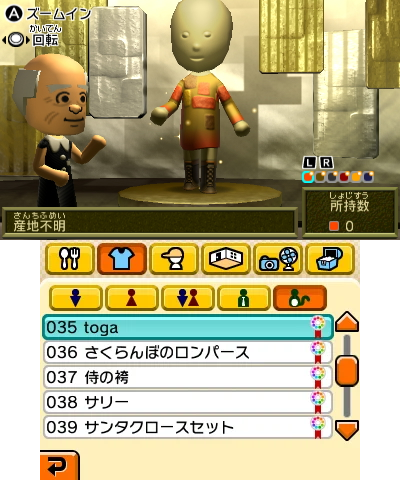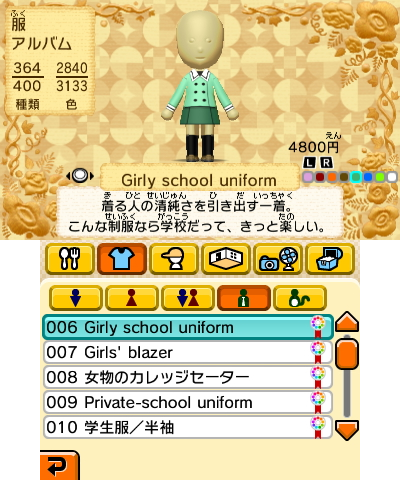 Changelog
0.05
Adds descriptions for all clothes and fixes the island listing in Import Wear. Hat descriptions should follow.
Kudos to Nmagoun for translating all of the Japanese exclusive clothes' descriptions.
0.04
Fully refines the Transfer feature between Tomodachi Collection and this game. Things that will be added in the next update include fixing the island name in Import Wear, descriptions for clothing and/or hats, and possibly a full translation of the Moving Software for the Transfer feature.
Special Thanks to LilanDeSilva6738 for translating almost all of the Transfer UI.
0.03
Removed a lot of the menu translations because it messed with a lot of stuff at once, and need to research more. Fixed a few suits so their names show.
0.02
Translates a bit of the menus, added credit. The next version should have most if not all descriptions for hats and clothes done.
0.01
The very first release. Contains only clothing and hat names translated.
External links