The Series of Haruhi Suzumiya English Fan Translation
From GameBrew
The Series of Haruhi Suzumiya English Fan Translation
General
Author
Haroohie Translation Club
Last Updated
2022/04/22
Type
Translations
Version
0.2
License
Mixed
Links
Download
Website
Source
This is a fan translation project for Suzumiya Haruhi no Chokuretsu (The Series of Haruhi Suzumiya), a partially-voiced visual novel/puzzle game based on the Haruhi Suzumiya series released in 2009 for the Nintendo DS.
Featuring over 36,000 lines of dialogue and many possible routes, this unofficial translation made by Haruhi fans from around the world seeks to make the game accessible to a western audience.
Features
Fully translated Episode 1.
Options to include subtitles for opening movie, voiced lines and puzzle phase.
Installation
Game information
Japanese title
涼宮ハルヒの直列
Aliases
The Series of Haruhi Suzumiya
English title
Suzumiya Haruhi no Chokuretsu
Follow the official guide to dump your copy of the game to a .nds rom file.
Once you've dumped your cartridge to an .nds file, patching it with the English Translation can be done directly through the online patcher provided by the tranlsation team.
Alternatively you can manually download the patch .xdelta file and patch your ROM file with patching software, such as xdelta UI.
User guide
Play as Kyon as you work with the rest of the SOS Brigade to keep Haruhi from discovering the unnatural phenomena occurring all around you.
Set during summer break after the second light novel, the SOS Brigade members must distract Haruhi while she investigates the Seven Wonders of North High and erase the evidence before she finds it.
Screenshots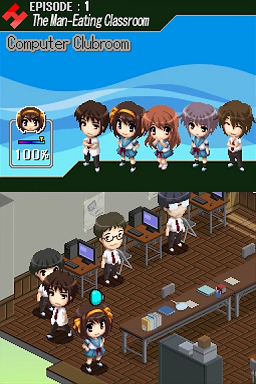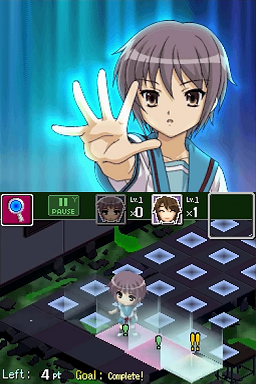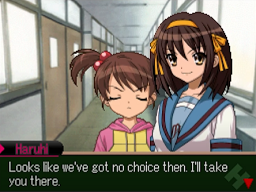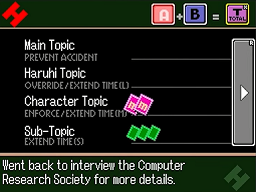 Media
The Series of Haruhi Suzumiya: Episode 1 Release Trailer (The Haroohie Translation Club)

Compatibility
Can be played on DS, DSi, 3DS and emulators (PC, Wii U, Mobile).
melonDS is recommended if you are using emulator on PC, DeSMuME should not be used due to graphical and audio emulation issues.
Credits
Haroohie Translation Club:
Project Lead - Jonko.
Translation - Listie & Isillor.
ROM Hacking - Ermelber & Jonko.
Graphic Design - William & Cerber.
Proofreading - Alvy, William, & Ziomek.
Additional Translation - Kanata & Tensei.
Additional Proofreading - Pierce, Cosmix, & Kon.
Testing - lambsauce, Goblinaro, master117, Kuya, & Nateyamas.
Website - William.
External links