The SMDH Creator 3DS
From GameBrew
The SMDH Creator
General
Author
link6155
Last Updated
2015/09/07
Type
Theme Tools
Version
beta
License
Mixed
Links
Download
Website
The SMDH Creator is a fork version of SMDH Creator.
This version of the program brings a more straightforward and simple UI, allowing people to edit .smdh files without hassle. There is also an export feature unlike the original version. The goal of this program is to encourage people to make icon packs for customizing the Homebrew launcher.
User guide
FAQ
Q. IS THIS A VIRUS?!
No, use VirusTotal to scan it by yourself.
Q. The program crashed when I tried to start typing, how come?
You need to load a .smdh file before you can start editing.
Q. Smartscreen filter blocked this program, how do I run it?
See this guide.
Screenshots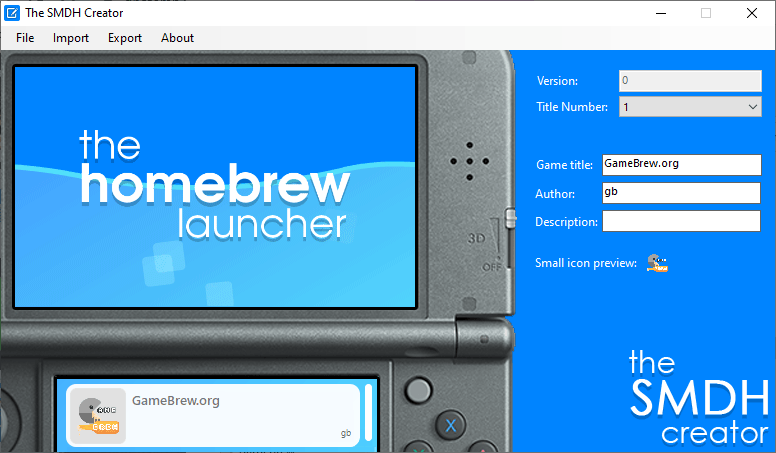 Changelog
2015/09/07
New animation for preview.
Added export feature.
More compact window size.
Credits
Thanks to GEMISIS for providing the source to his project. He's the one who coded the main components to this application.
External links