The Animal Crossing Pattern Tool
From GameBrew
The Animal Crossing Pattern Tool is a program that can create patterns for Animal Crossing DS.
Note: Make sure you keep a backup of your save data before editing your save files.
Features
Convert pictures into .acww files.
Choose a name for the converted pattern.
Choose town/creator name for the converted pattern (some restrictions).
Show all in-savegame patterns.
Edit in-savegame patterns and pattern names directly.
Import/Export .acww pattern files into/from your ACWW savegame (US/EUR version).
View .acww files.
Do all these with the patterns of player 1, 2, 3 and 4, the able sisters, the town flag, blanca faces and even things your villagers are wearing right now.
View savegame raw data.
View player 1's letters in the inventory.
Import/Export .ltr letter files of player 1.
View and edit Bulletin Board messages of your town.
User guide
Resources
FAQ
Q. Does this work with M3 .dat files too?
Yup, sure does.
Q. Do you have some .acww files for us to play around with?
Sure. These patterns were taken from the animalxing.com pattern database. Credit goes to the original creators.
Q. Do you have a copy of the special nintendo letters?
It's the reason the letter editor is created. This zip includes the Iwata newyear letter, the nintendo europe easter letter, and the nintendo usa easter letter. All unopened, ofcourse.
Screenshots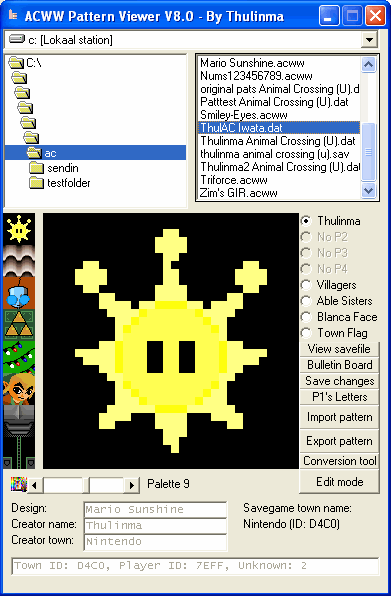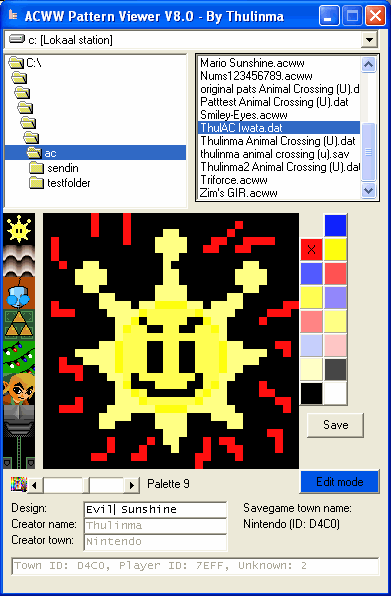 Changelog
Version 8.0 2006/04/13
It's now possible to set a creator town and name with converting patterns.
It's now possible to edit patterns inside savegames (no .acww files yet), and edit their names.
You can now import and export letters from the Player 1 "inventory" (.ltr files).
You can now change the "to" and "from" of letters into your own name.
Some minor bugfixes.
Version 7.1 2006/02/04
Added support for .duc files.
Version 7 2006/01/12
Added a few common characters that were missing.
You can now view/edit Bulletin Board messages of your town.
You can now view (no editing yet) the letters in player 1's inventory.
You can now view the raw data of the savegame, converted to a (mostly) readible format.
Version 6 2006/01/09
Now supports player 2, 3 and 4.
Filename for exporting/converting is now chooseable, defaults to a legal filename.
Player "inventories" are named after the player.
Added the following characters: heart, semicolon, all numbers, exclamation mark, dot.
Credits
Many thanks to DsPet for the help.
External links