Temby! Towers DS
From GameBrew
Temby! Towers DS
General
Author
Tembargo
Last Updated
2006/12/31
Type
Board
Version
Beta/Final
License
Mixed
Links
Download
Website
Source
Temby! Towers DS is a port of the Yahoo! Towers. It has the same game rules as Yahoo! Towers and adapt it to a single player version. It is made with PAlib.
User guide
The goal is to clear the falling pieces, by getting a minimum of 3 letter tiles in a line that contain the same color, or form the word TEMBY.
The tiles can be aligned horizontally, vertically, as well as diagonally.
Controls
Left/Right - Move a bar
Up/A - Change the order of the letters of the bar
R - Use an item
Start - Pause
Screenshots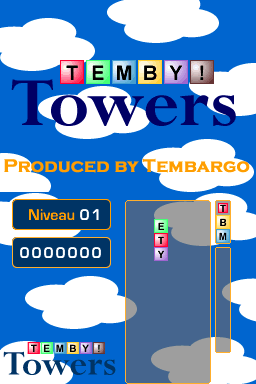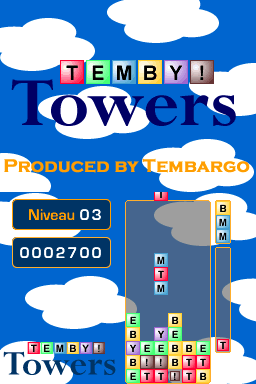 Changelog
v0.6 Temby! Towers DS 2006/05/17
New name Temby! Towers and personal design.
Score and level display. And increase the speed according to time and score points.
Horizontal displacement if left to press right or left.
Functional "T" defense block (erases the first line of play), the option is used with the 'R' button.
Test of music by DJ Costello.
v0.5 Yahoo! Towers DS 2006/04/24
Manage the number of sprites, so no more bugs after displaying the first 128 sprites.
Squares explosion animation.
Destruction of squares during an alignment forming the word "yahoo!".
Pause with Start.
v0.4 Yahoo! Towers DS 2006/04/22
The square destruction bug has been eradicated forever
Identification of rows with more than 3 squares diagonally (not "yahoo!" yet).
v0.3 Yahoo! Towers DS 2006/04/21
"Skin" of the lower screen, positioning of the score, the player's name, and an avatar (changeable by touching it).
Added next bar display and added item bar.
Display of the version number on the lower title screen.
If a bar exceeds the top of the screen: game over (display of end text and blocking of the game). On Restart: Game Reset
Identification of rows of more than 3 identical squares horizontally or vertically (not yet diagonal or "yahoo!").
Deletion of identified squares (but presence of a bug not yet identified).
v0.2 Yahoo! Towers DS 2006/04/19
Added a title screen.
Positioning bug fixed, so bars go down and stack well.
Code optimization (no more divisions and decrease in the number of floats).
v0.1 Yahoo! Towers DS 2006/04/17
First version the bars descend, stack and are blocked at the bottom. But presence of bug. For an evening (sleepless night) of code, think that's cool.
Yahoo! Towers DS 2006/04/16
The idea blooms in the head, go hop. Neurons and motivation on the move.
Credits
Thanks to Mollusk for the PAlib, yopyop for the emulator, DJ Costello for the sound environment to come. as well as to Gwoin for the advice. Also testers Julmachin, Beda, MaCopine, MonFrère.
External links