Tales of Dagur
From GameBrew
Tales of Dagur
General
Author
LiraNuna
Last Updated
2006/03/26
Type
Role playing
Version
2
License
Mixed
Links
Download
Website
Source
Tales of Dagur is a complete RPG homebrew for the NDS.
It was in the 1st position at the NEO Spring Coding Competition 2006.
User guide
The kingdom of Dagur is in deep troubles: The holy stone that protects the kingdom has been stolen! Further more, the queen of Dagur has disappeared.
A young lad named Alex is summoned by the king to fix the situation. Help Alex return the holy stone, find the queen, and by that save the kingdom!
Don't forget to equip weapons!
Control
In game:
D-Pad - Movement
A - Perform Action
B - Dash
Start - In-game menu
In battle or shop:
D-Pad - Scroll through options
A - Select
B - Cancel
Screenshots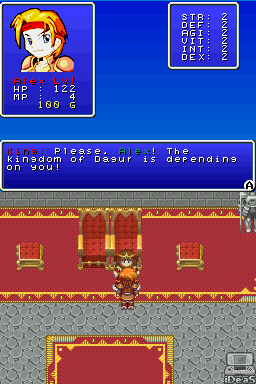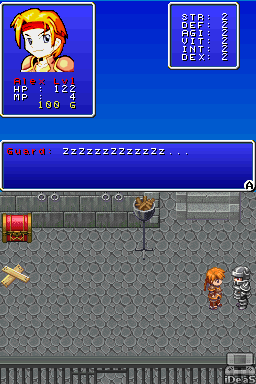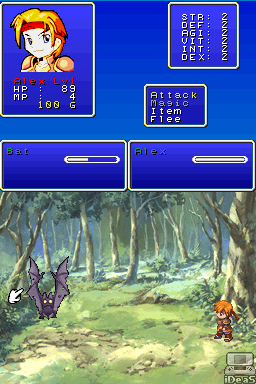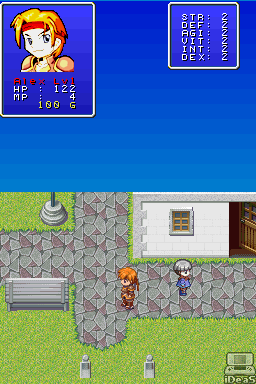 Compatibility
Tested on iDeaS.
Credits
Code: LiraNuna.
Moral support and font tileset: Chetic.
Storyboard, Script, & Music collection: RVman.
Graphics: Enterbrain.
Mapping and level design: Nikolas Lahtinen.
Beta-testing: Cameron, Chetic and Nikolas.
Special thanks to Rat for the splash screen.
External links