TWLoader
From GameBrew
TWLoader
General
Author
Robz8
Last Updated
2018/06/19
Type
Title Launchers
Version
6.7.0
License
Mixed
Links
Download
Website
Source
TWLoader is a CTR-mode frontend for nds-bootstrap that looks like the Nintendo DSi Menu.
Note: This has been superseded by TwiLight Menu++.
User guide
Settings
GUI:
Language - You can use default system language or a custom if available.
Color - You can choose between 19 background color (for the top screen, circle dot and choose box border).
Menu color - You can choose between 17 background color for the bottom screen (and top is top border is on).
Show filename - Filename of .nds roms will appear.
Game counter - Show the number of total roms and position.
Custom bottom image - Load a custom bottom image for the game menu.
Auto-update bootstrap - Can switch between Off, Unofficial and Official.
Auto-update to latest TWLoader - If selected, will auto download and install the latest available TWLoader at start up.
TR/TWL-mode settings:
Flashcard(s) select - here you can select you flashcard for run roms from it.
Rainbow LED - after selecting a .nds in game menu, will turn on notification led with a rainbow effect.
ARM9 CPU Speed - switch between 133mhz (DSi mode) or 67mhz (DS mode)
VRAM boost - Allows 8 bit VRAM writes and expands the bus to 32 bit.
DS/DSi Boot Screen - displays the DS/DSi boot animation before launching a rom.
Health and Safety message - displays the Health and Safety message on the bottom screen.
Reset Slot-1 - enable this is slot-1 card are stuck on white screens.
Console output - display debug text before launching the rom. Switch between Off, On and On (debug).
Lock ARM9 SCFG_EXT - locks the ARM9 SCFG_EXT, avoiding conflict with recent libnds.
Game location - Switches the game location between the SD Card and the flashcard.
Box Art - Enable or dissable box arts.
Start GBARunner2 - Start GBA emulator.
Top border - The border surrounding the top background.
Screenshots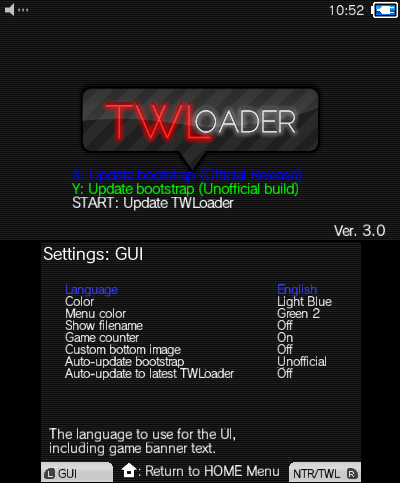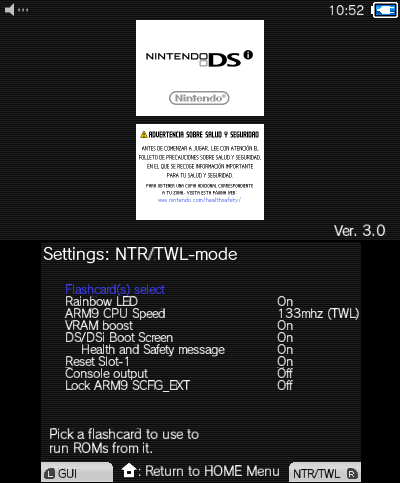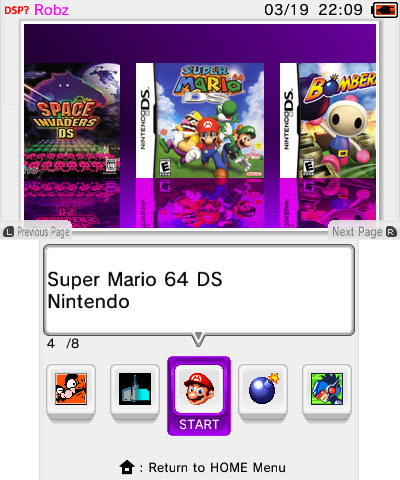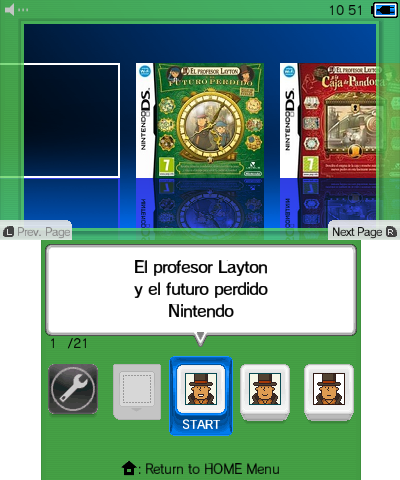 Media
How to play DS games on 3DS off an SD card | TWLoader | (Ghostly Gaming)

Credits
ahezard - Loading banner icons from .nds files.
Billy Acuña - Old TWLoader logo.
Joom - New and current TWLoader logo.
cheuble - Sound engine.
Gericom - GBARunner2.
MarcusD - Code for glowing rainbow colors in Notification LED.
Olmectron - Forwarder3-DS.
This wouldn't have been possible without the following.
ahezard - nds-bootstrap, for ROM loading.
Apache Thunder - NTR-Launcher, for NTR Slot-1 game loading, and the recreation of the DS/DSi boot screens.
shutterbug2000 - File browsing code.
spinal_cord - DSi4DS assets.
External links