TTDSi Check
From GameBrew
TTi Genuine or Fake Check program (Only for TTi).
User guide
Check the DSTTi card to see the result:
Original TTDSi Fashcard.
No fashcard recognized, or not inserted or is unknown to the software.
Fake, ie fashcard is false.
Need to upgrade the program.
Program 1.41 compatibility check:
To see if the flashcard is compatible with the DSi menu 1.41.
Screenshots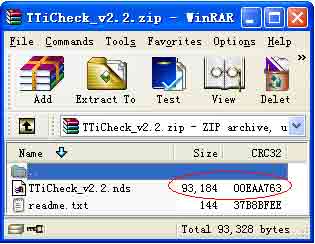 Changelog
v3.0 2010/09/27
TTi_141_Check v3.0 Note: must be run on the official TTMenu kernel, for example: v1.17.
v2.2 2010/09/26
Check your TTi card is Genuine or Fake? Only support TTi.
Please download this program from www.ndstt.com.
Comments of check result: Genuine TTi, Fake TTi, Not TTi card, unknow Need upgrade check program from our website.
TTiCheck_v2.2.nds CRC32 is 00EAA763, file size is 93184 bytes, md5 result is 8B4FE267DB6438696C927322C053C1D2.
How to calculate md5 result? You can use command line, for example:
External links