TIRP
From GameBrew
TIRP
General
Author
Synvox
Last Updated
2010/08/22
Type
Racing
Version
2010
License
Mixed
Links
Download
Website
TIRP is a homebrew driving game for the NDS, where you will also need to shoot zombies along the way and jump to avoid destructive objective.
User guide
Your character is the car of your choice. To change that, click on your car while on the main screen. Once you have selected the car of your preference, it's on to the actual game. Just dodge the falling recycled images to receive points, but be careful, there are zombies that walk accost the screen to cost you time in the game.
While driving along, you may run into a rocket. Rockets are rare and valuable. To cash them for 500 points, launch them at the recycling bin on the top screen. Once hit, the recycling bin will speed up and become harder to dodge its harmful pieces. These falling objects will cost you both time and score, so it is in your best interest to dodge them.
Then the games stops, your time has ended. The score you received is ranked according to the average expectations of the game. If you are skilled enough, you may even end up on the high score board, but don't stop there, play again to beat your score and be honored by having your score placed on the top of the list.
Controls
B - Shoot zombies
A - Jump
Y - Launch rockets
Screenshots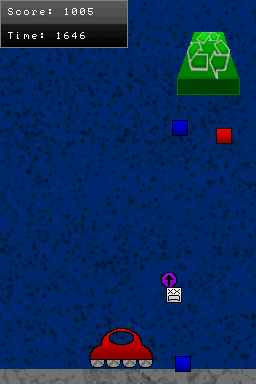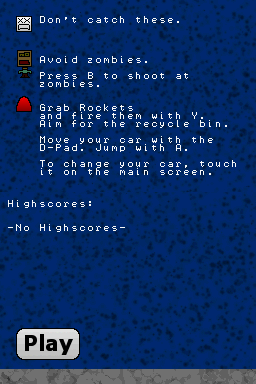 External links