SylphAMP
From GameBrew
SylphAMP
General
Author
ficedula
Last Updated
2006/07/04
Type
Media players
Version
0.04
License
Mixed
Links
Download
Website
SylphAMP is a stream WINamp to DS.
Features
Stream and control Winamp running on PC from DS.
Installation
Download and extract file. Put the plugin (OUT_SylphAmp.dll) into your WinAmp plugins folder.
Start WinAmp and choose SylphAMP as the output plugin. Make sure you do this before booting the DS.
Boot the NDS and wait for it to autoconnect to AP.
The program will prompt you for the IP of your PC, which needs to be the same subnet as the DS.
The DS will now attempt to contact the PC.
User guide
Modify playlist
In the plugin configuration from within Winamp, make sure to set a root-folder. The DS will only be able to see files inside here (sharing your whole hard drive automatically would be bad).
Also check the file extensions SylphAMP will look for. This is hack because Winamp doesn't appear to have a scan-folder command in its API.
When you connect, the top screen should give a list of folders you can choose. Hold down left shoulder button then use Up/Down/A to move around the folder tree.
Once you've found a folder you want to play, press Start (still holding down L-shoulder).
Controls
A - Play
B - Pause
Up/Down - Change track
X - Stop
Screenshots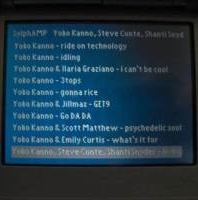 Known issues
Things That Don't Work:
Any source audio on the PC that's *not* in 44KHz/16bit/stereo.
Two DSs trying to connect to the PC at once.
Changelog
0.04
Fix bug scrolling playlist.
Allow clearing/add files to playlist from DS.
External links