SvSiP
From GameBrew
SvSiP
General
Author
Samuelv (Christine)
Last Updated
2007/11/26
Type
Utilities
Version
7th
License
Mixed
Links
Download
Website
SvSIP is a program that turns your Nintendo DS into a telephone. For that it uses the SIP protocol. This protocol is an open VoIP standard. Users of FAI ADSL in total disintegration often use it without knowing it to make calls.
Features
Make calls to a number with digits.
Receive calls, at the moment the answer is automatic.
Interrogate interactive voice responses using DTMF frequencies.
User guide
It contains a complementary software wifi-config to configure the WiFi connection and test the DS Connection. The connection parameters must be safeguarded. In the repertoire svsip there a file called wifi.
Different skins can be found here. Replace the skin picture with the same name dsip.png.
Note from developer:
Please use at your own risk.
Controls
A - Call, Answer
B - Hang up
Start+Select - Reinitialise
A+B+X+Y - Turn off DS
Screenshots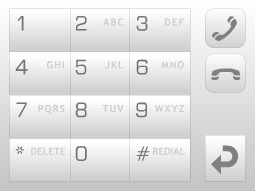 Changelog
6th Version 2007/10/21
Ability to configure the wifi without commercial software. Better management of wifi. The DS ring for an incoming call. Recourse of the DS keys [A] to answer, [B] to hang.
In the configuration file is renamed the following parameter:

Micro-vol-changed by mic-level.

Added the following parameters:

Speaker-level to control the speaker volume.
Log-file to determine the file in which the logs will be saved. Without this parameter, no log will be safeguarded.
Log-level to determine the level of safeguarding in log file (0 no log, very fixed 6 log).

In this new version, SvSip ring for an incoming call. Still can not add a file (wav, mp3, etc).
Credits
Thank you very much to Benjamin (ongleben) for having incited get this software for testing IP address resolution from the DNS service.
Many thanks to Stefan Engelen did several tests to identify the problem of Wifi management.
External links