Super Mario Bros Galaxy DS
From GameBrew - a wiki dedicated to Video Game Homebrew.
Super Mario Bros Galaxy DS
General
Author(s)
The Dark Master
Type
Platform
Version
2.0
Licence
Mixed
Links
Download
Website

Super Mario Bros Galaxy DS (Spanish) is a DS homebrew platformer inspired by the classic Super Mario Galaxy Wii Game.
User guide
Your mission is to help Mario get stars to get enough power to travel the planets and avoid his enemies and describe the truth about this remarkable story .
The game consists of traveling through planets in peculiar gravities and getting stars by killing enemies, or by obtaining coins, or simply by collecting stars or fragments of them. With the stars, Mario can continue his journey to other planets.
There are two basic types of planets:
Planetarium - Planets without enemies or stars to obtain, but they have passages between planets.
Normal - Contain stars to collect and enemies to avoid.
The game has various gravities, from normal to vice versa and even horizontally. Also Mario has unlimited life.
To continue traveling through planets you will need stars, if you get to a planet where you do not have enough stars you will have to go back to others and look for stars that you missed.
At the time of release you can get stars by:
Searching on the planets.
Gather star fragments (there are 5 parts).
Defeat all enemies (not counting Bullet Bill).
Collect all the coins.
The latest release has a Planetarium and three normal planets (developer noted that the game is not finished).
Controls
Left/Right - Move
D-Pad - Enter tunnels
A - Jump
B - Run
Select - Back to the Planetarium
Screenshots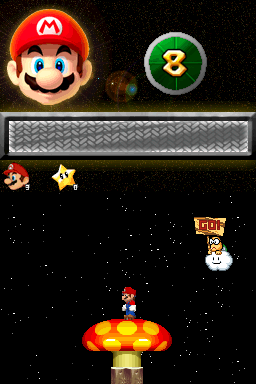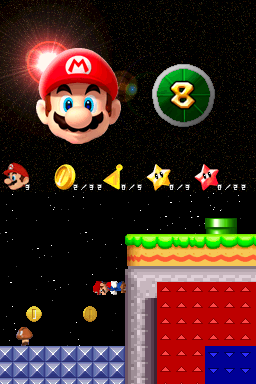 Compatibility
Tested on:
Real M3DS (firmware 4.8)
R4 Ultra (firmware 1.56)
DSTT/TTDS (firmware 1.17)

Changelog
Version 2.0
Repair thorough bug that prevented play.
Main menu (although some options are still missing).
Added Loading , Game Over, and Past Level Screen.
Now Mario can go faster by pressing B.
New level available.
Final enemy of the Planetarium available.
Appearance of coin blocks and brick blocks.
Koopas and ShyGuys added.
Operating life system.
Assigning the Select button to return to the Planetarium.
External links