Super Extreme Smile
From GameBrew
Super Extreme Smile
General
Author
OBJECTION! (LaPatateInc)
Last Updated
2010/08/20
Type
Arcade Games
Version
2010
License
Mixed
Links
Download
Website
A rolling smile. Super Extreme Smile is a DS homebrew arcade game with an original concept, and uses libnds directly. The development started June 28th and completed by LaPatateInc alone. There are 15 campaign maps, 6 music.
It is created by LaPatateInc for the Neo Coding Compo 2010.
Features
15 in-game maps.
Ability to load and save your own map.
50 Achievements.
Cool options.
6 different music which you can adjust speed.
Installation
Download and extract file.
Copy .nds file to anywhere of the card, the smile folder to the root directory of the card (data folder inside smile folder).
User guide
In Super Extreme Smile, you are a Smile.
The rolling smile cannot move, the only way to move it is to use the touchscreen to rotate all the world around it.
The smile is affected by gravity and thus, moving. Every time you rotate the screen, it keeps it's original velocity.
There are 59 tiles. Each tiles should explain itself. Maps are 124x60 tiles.
There are 50 achievements. Some will be done with time, some take skills. Some requires you to create a map to achieve it.
You can save with whatever name you want, 16 characters maximum. And can always change it afterwards with Windows.
Change language (English or French).
Flash or not.
Pause (mostly for debugging).
Music volume.
Music tempo.
Music changing automatically when change mode.
The Editor
You can create your map, save them on the DS, load them again.
The editor is easy to use. Each tiles are sampled on the top screen, and switch screen by pressed L or R.
Then you can change tile, zoom, save, load or move around on the minimap.
Controls
Select - Change mode
Basic:
Stylus - Move
L/R - Stop Time (Use this)
Motion - Move (While time is Stopped with L or R, DS must be vertical)
Down/B - Restart from checkpoint
Up/X - Restart from start
Start - Pause
The Editor:
D-Pad/A/B/X/Y - Move
Start - Change language in rotation
Stylus - Place tiles
L/R+Stylus - Swap screen and every control (change tile, save, load, zoom, move around faster)
Screenshots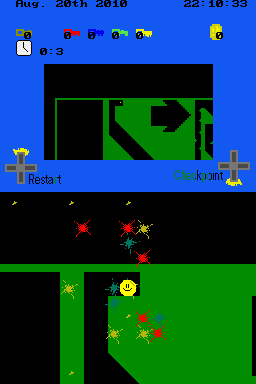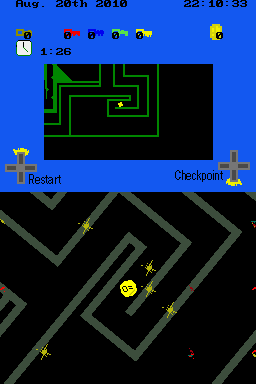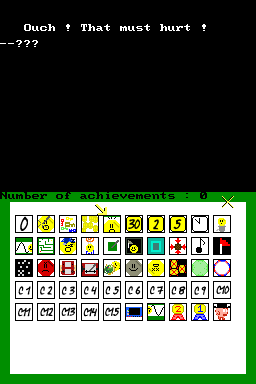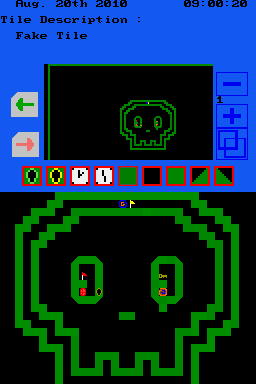 Media
Super Extreme Smile (Francois Lachance-Guillemette)

Compatibility
Recommend playing on a flashcard because it won't save on a emulator. When exit, it loses all progress.
Since some achievements are only available for flashcard, thus cannot get them all on a emulator.
Known issues
Collisions should all work, be aware there are sometimes bugs with velocity too high.
Credits
All musics are from author's sister, except: Main Menu and Rythmic Music, by LaPatateInc.
Maps 1-2-4-5-11-13 are from author's Brother, the others from LaPatateInc.
External links