Super Among Us 64 DS
From GameBrew
Super Among Us 64 DS
General
Author
SolarZ
Last Updated
2022/01/01
Type
Game Hacks
Version
2022
License
Mixed
Links
Download
Website

Super Among Us 64 DS is a ROM hack of Super Mario 64 DS.
Currently it is a single level demo with 7 collectable stars.
Installation
ROM information
File
Super Mario 64 DS (USA)
CRC
E6321562
MD5
82EA4525A39DC2F484A054CFF3F1B834
SHA-1
A5B8BD846725965C588B6FC591F1FE822F7BBDBD
The patch is in xDelta format. You can apply the patch with either xdelta UI, Delta Patcher or MultiPatch.
Screenshots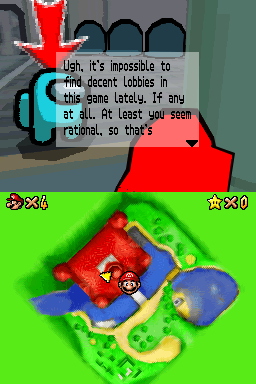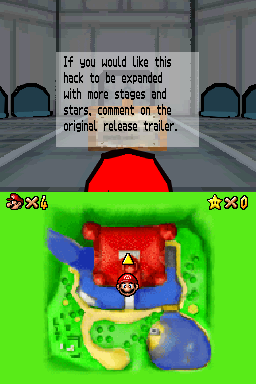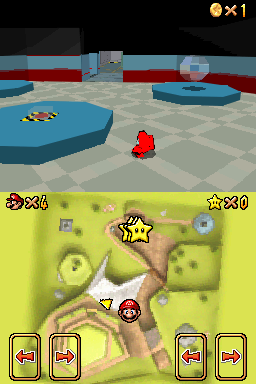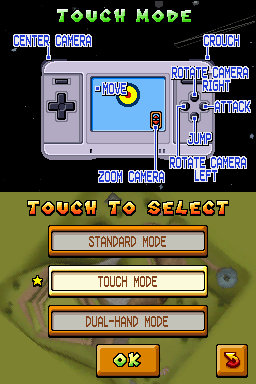 Media
Super Among Us 64 DS Download (Solarz)

Compatibility
Works on real NDS hardware, DeSmuME, and presumably all other platforms capable of running NDS roms.
Credits
Credit to the SM64DS Hacking Discord Server for offering help with various problems.
Music featured in this video:
Among Us Drip Theme [Black Metal Version] - DMT (the original was copyrighted, enjoy).
Among Us Victory Sound Composition Thing - SolarZ.
Mii Theme - Nintendo.
Skyloft - Nintendo.
Mariokart 8 Theme - Nintendo.
Super Smash Bros. Wii U/3DS Menu Theme - Nintendo.
Wii Rainbow Road - Nintendo.
Wii Moonview Highway - Nintendo.
The Star Festival - Nintendo.
External links