Stockmarket DS
From GameBrew
Stockmarket DS
General
Author
kalfster
Last Updated
2011/03/18
Type
Simulation
Version
1.18
License
Mixed
Links
Download
Website
Stockmarket DS is a homebrew game that simulate stock market where you invest and try to earn money from. It is made with DS Game Maker.
User guide
The main objective of the game is to find out how many days it takes to make a profit of $10,000,000.
For that, you can combine investments and experience to get the best and most productive solution, there are many paths to take and all with different results.
Controls
Operate with Stylus.
Screenshots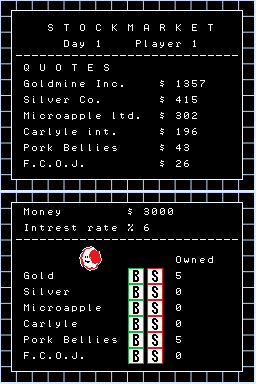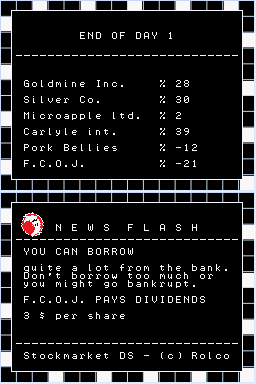 Compatibility
Tested on:
DSTT/TTDS (firmware 1.17a12)
CycloDS iEvolution (firmware 2.2)

Changelog
1.18
More events, added some animation, better assets update, some gfx changes from thedark.
1.17
Cash sound with each click (sounds better).
External links