Steam Ponk
From GameBrew
Steam Ponk
General
Author
Invisible Team Ninja Squid
Last Updated
2009/06/11
Type
Arcade Games
Version
2.1
License
Mixed
Links
Download
Website
Steam Ponk is a 2 players pong game for the NDS. The homebrew takes 60 hours to develop and was made in C/C++, with minimal libraries (nds lib and PAlib).
The game involved in the Toronto Game Jam 2009.
Installation
Download and extract file.
Copy it to the root directory of the card.
User guide
Pong so fresh, it'll spoil in the fridge. Designed for 2 players both holding a Nintendo DS, controlling paddles on each side. You can get a taste from the PC, but you need to copy this to your DS for the full experience.
Clouds and obstacles periodically scroll in from the dual screen, making it more than a hood ornament.
Keep a good lookout as the ball will start to move quickly at the beginning of the game. Right at the start will see that the terrain changes.
Depending on the land which the ball would change speed, if it is in the water, the speed is slower. If it goes to ground, the speed increases.
Beware of buildings, and the ball will bounce off them, with the clouds, which will greatly hinder vision, and floating enemies that attack you and make paddle smaller, making it harder to hit the ball.
Controls
Up/Down - Player 1
X/B - Player 2
Screenshots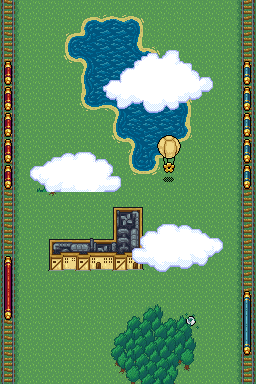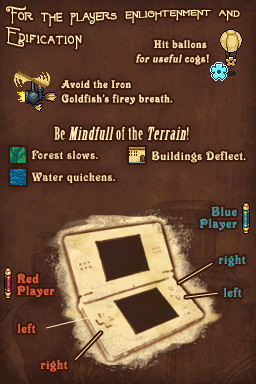 Compatibility
Tested on DSTT/TTDS (firmware 1.17).
Best played on a Nintendo DS.
Changelog
v2.1 2009/06/11
Improved graphics.
More obstacles.
Nasty bug fixed.
v2.0
Added title screen.
Better collision, better rebounds, more enemies and variety.
Possibly even better looking.
v1.0
Released Original TOJam Version.
Credits
Team Invisible Ninja Squid (Squid Team):
Programmer, Designer - Gillian Laidlaw.
Artist, Designer - Miguel Sternberg.
Artist, Level Designer - Parrish Ziganian.
Artist - Andrew Brykcznski.
External links