Starfall DS
From GameBrew
Starfall
General
Author
DesertDog (Multiple Option)
Last Updated
2012/08/17
Type
Action
Version
2012
License
Mixed
Links
Download
Website
Starfall is a non-stop pace of Temple Run mixed with the polarity action of Ikaruga topped off with the risk and reward of a slot machine.
It is submitted to the NEO Retro Coding Compo 2012.
Features
User guide
A journey in space - a test of survival. Catch stars to increase the jackpot, but don't forget to claim it!
Avoid the meteors; they're deadly unless you Colour Shift.
Same colour ship and meteor = OK.
Mismatched colours = GAME OVER.
Go for the highest score.
Controls
D-Pad - Movement
A - Colour Shift
B - Claim jackpot
Screenshots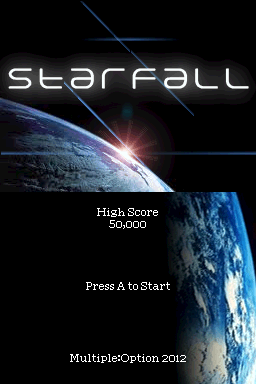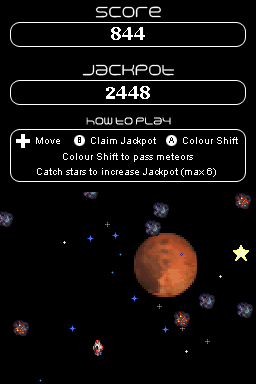 Compatibility
Required a Nintendo DS/Lite/DSi/DSi XL and a flash cart. Tested on Acekard 2i. Runs in No$GBA/desmume.
Credits
Additional art by Guyome41, Cuzco, bart, surt
Music - Kicks by Sycamore Drive.
External links