StarLite DS
From GameBrew
StarLite: StarCraft DS Edition
General
Author
StarDev
Last Updated
2008/01/16
Type
Strategy
Version
0.03
License
Mixed
Links
Download
Website
StartLite is a homebrew port of the real time strategy game StarCraft to the Nintendo DS.
Note: The project was abandoned.
Installation
Version 0.03 is only playable through WiFi Ad-Hoc mode and requires 2 NDS to play.
To install, copy the StarLite.nds file on both consoles.
On DS number 1, copy the equipe.txt file to the root of your Memory card, with the simple character 1 as content (no line breaks, no spaces).
On DS number 2, copy this same file, still at the root, but this time containing the single character 2.
This file lets the DS know that you are player 1, or player 2.
Launch Starlite, and wait for the 2 games to be launched on the 2 DS. You can now start playing.
Screenshots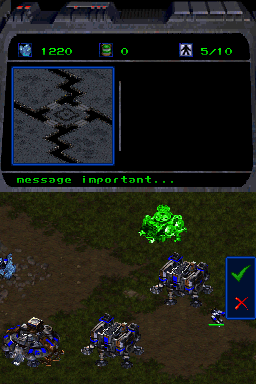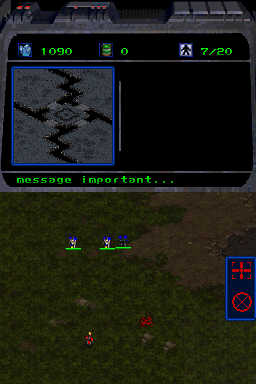 Media
StarCraft on the Nintendo DS (Eddie)

Known issues
Some DS crashes.
Bugs with marine enemy.
Changelog
v0.03
StarLite now uses 3D Sprites, which makes it possible to display 1024 of them in total.
Wifi Ad-Hoc mode is now functional. That is to say that you can play with 2 DS in the same room, one against the other.
External links