Sonic Rage
From GameBrew
Sonic Rage
General
Author
Blabla
Last Updated
2009/12/20
Type
Action
Version
Beta 2.01
License
Mixed
Links
Download
Website
Sonic Rage, formerly known as Sonic Rumble, is a beat'em all homebrew game programmed by Blabla for the NDS. The latest version is Beta2 and developement has been cancelled. It contains 2 world with 3 playable characters.
Installation
Note: You must have ML3 prerelease and luads400.nds (which is in the game) for the launch.
To install, copy .nds file to the root directory of the card.
Put the folder Sonic Rage! in fat:/lua/script/.
Choose to launch the file is launch.lua in fat:/lua/script/.
User guide
The Dr.Robonik wants to take revenge and Sonic will have to fight without his hand speed against spam.
Controls
A - Change the scenes before the boss
Screenshots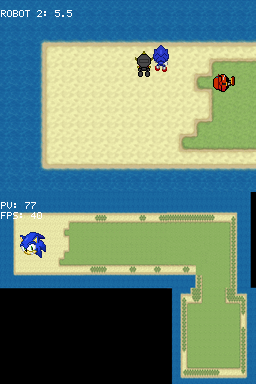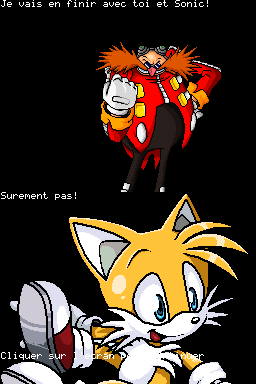 Changelog
Beta 2.01
Fixes bugs with some images.
Beta 2.0
Adds a world and some bugs.
Rename to Sonic Rage.
Beta 1.3
Adds a map on the bottom screen and sets a bug with the gameover.
Beta 1.2
Sorts files and fixes the bug tails and shadow with the boss.
The boss music was replaced.
Beta 1.1
Beta 1
First with a beta 3 characters and world.
External links