Sonic Ball
From GameBrew
Sonic Ball DS
General
Author
N64Francois (Hamza)
Last Updated
2006/03/19
Type
Arcade Games
Version
2006
License
Mixed
Links
Download
Website
Sonic Ball is a DS homebrew arcade game inspired by Arkanoid, made with PA_Lib.
This homebrew was submitted to the NEO Spring Coding Compo 2006 and ranked 10th.
Features
10 levels.
Use Stylus or Pad.
Sound.
User guide
Play as Sonic and you must destroy Dr Robotnik and get all the emeralds back from him as quickly as possible, through 10 levels.
The game uses both screens, control Sonic and avoid falling onto the spikes. When Sonic dies, time +30 sec when you restart the level (infinite lives).
Collect all the emeralds to reach the next level. Power-up would appear from time to time.
Controls
D-Pad - Move
A - Start level
Screenshots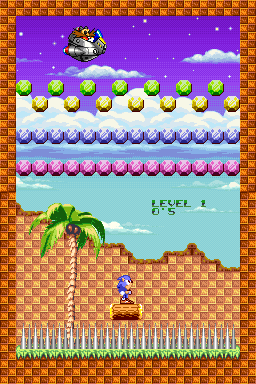 External links