Soma Bringer Open Translation
From GameBrew
Soma Bringer Open Translation
General
Author
DarthNemesis
Last Updated
2016/05/03
Type
Translations
Version
2009.02.02
License
Mixed
Links
Download
Website
This is an English translation patch of Soma Bringer (overall 98% translated, except for the ship's glossary).
Features
Cutscenes 99% translated.
Library and menus 94% translated.
Misc data and NPCs 99% translated.
Overall 98% translated.
Installation
Game information
Japanese title
ソーマブリンガー
English title
Soma Bringer
ROM information
File
2058 - Soma Bringer (Japan).nds
Game ID
YBSJ-90E5633A
Decrypted CRC32
E5907146
Decrypted MD5
FE0A3A5603B3F4C43C595A6E0420B470
Decrypted SHA-1
706F35C6F44145B8427A567C3BB6F5AE8401BE27
Encrypted CRC32
F03544A7
Encrypted MD5
C542919F72526F2301EC5F4A84E30EA3
Encrypted SHA-1
5AEBDE51999341A6EE4DF4FD6E6AACB74D3802AC
To apply the patch, drag an original (unpatched, untrimmed) Soma Bringer ROM onto the Drop Rom Here.bat file.
For mac users, extract to the same folder as the patch and your original .nds file, then run PatchSoma.
Screenshots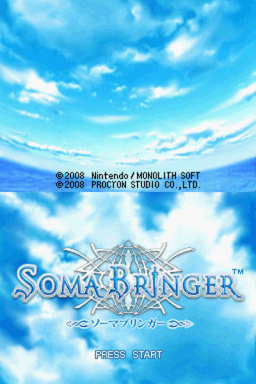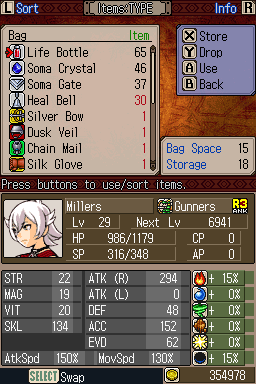 Credits
Project team:
Translators - Asitaka, BRPXQZME, Logar, LostTemplar, MANIA, Myron, Potaro, Psycoblaster, Wischmop.
Editors - Fusoya59, Gokuroro, Krosk, Mac2492, Raestloz, RvLeshrac.
Special Thanks:
deufeufeu - helping with some file formats.
Bao-Bao - beta testing SomaTrans.
Mac2492 - extensive playtesting and editing.
Ryusui - encouraging the use of a variable-width font.
samiamwork - patcher for OSX users.
External links