Snatcher Pilot DS
From GameBrew
Snatcher Pilot DS
General
Author
Multiple:Option
Last Updated
2008/11/08
Type
Adventure
Version
20080225
License
Mixed
Links
Download
Website
Snatcher Pilot DS is a port of a graphic adventure game by Konami and an early game of Hideo Kojima (Metal Gear Solid). This game is a demo (hence Pilot) and is based upon the PC-Engine Snatcher Pilot Disk, but uses the Sega CD version's assets.
User guide
Snatcher is set in the mid-21st century, fifty years after a biological weapon known as Lucifer-Alpha killed much of the world's population.
In Neo Kobe City, a metropolis on an artificial island in eastern Asia, humanoid robots dubbed Snatchers have been recently discovered killing humans, donning their skin as a disguise, and replacing them in society. The Neo Kobe government closes the city from the outside world and establishes JUNKER, a task force to hunt Snatchers.
The player takes on the role of Gillian Seed (Yusaku Yara/Jeff Lupetin), an amnesiac who can only remember that his past, along with that of his estranged wife Jamie (Kikuko Inoue/Susan Mele), is somehow related to Snatchers. He starts working at JUNKER in hopes that hunting Snatchers will bring his past to light.
Controls
Stylus - Shoot enemies when required
Up/Down - Choose between the options
A - Select the actions
Screenshots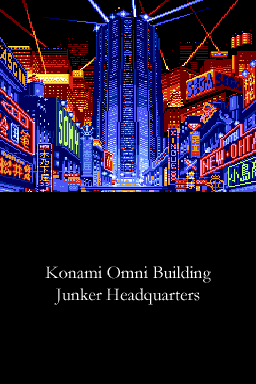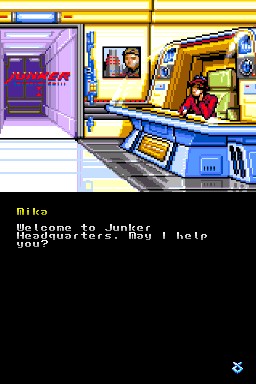 Known issues
No saves.
No sleep mode.
Once the game ends, you'll need to reload it (on/off) if you want to play it again.
Changelog
UPDATE 2008/11/08
UPDATE 2008/05/11
Added 3MB Version, which should provide better compatibility with some flash carts, such as the Neo MK5. If you couldn't get this game to work before, please try the 3MB version.
2008/02/25
Credits
Konami - Publisher of Snatcher.
Devkitpro - DS Homebrew tools.
PALib - DS Homebrew tools.
DeSmuME - DS emulator.
Junker HQ - Thanks for the sound extraction tool.
Kega Fusion - Sega multi-console emulator.
External links