Smash Bros Ultimate
From GameBrew
Smash Bros Ultimate
General
Author
MasterSonic
Last Updated
2010/03/13
Type
Action
Version
3.0
License
Mixed
Links
Download
Website
Smash Bros Ultimate is an adaptation of fighting game Smash Bros for the NDS. There are two versions provided (EFS and FAT) for better compatibility with linkers.
Installation
Load the rom from DSOrganize or use SSBULoad.
If you have previous version installed, delete the homebrew and its folder (if you used SSBULoad as well), add the new folder and the new .nds.
User guide
"Ever wanted to be able to play an authentic fighting game with your characters in the Ds, but you never liked the use of percentage to kill, because this game has what you need, a system of life bars with percentage according to life, this is already much better."
The main features that this Smash distinguish this from other versions includes:
An introduction to the purest Smash style.
Use of life bars to replace the classic damage percentage.
Quite insistent AIs , in addition to being able to have up to 3 in a game.
Bowser, a good news compared to other Smash.
Controls
Stylus - moving through options, Take photo (pause menu)
D-Pad - Move character, Camera (pause menu)
A - Attack, Attack combo A+A+A
B - Launch missile
X - Jump
Start - Pause
Screenshots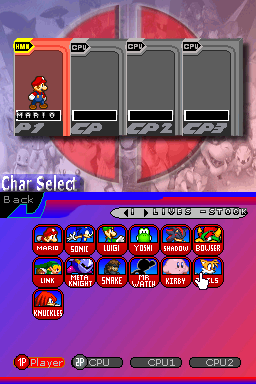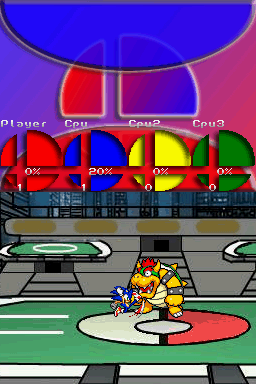 Compatibility
Tested on:
M3 DS Real (firmware 4.7X)
ITouch DS (firmware 3.3c)
M3i Zero (firmware 4.7f)
EDGE (firmware 1.17)
NDSTT (unofficial firmware 1.17a12)
R4 Revolution Original (firmware 1.18)
Acekard 2i (AKAIO firmware 1.5.1)
M3DS Real (firmware 4.5X)
Ez Flash Vi (firmware 2.0 RC12)

Changelog
Version 3.0
General game code optimization.
Added more characters to the collection: Tails and Knuckles (from the Sonic saga).
Now all 3 COMs attack each other, no longer 3vs1.
Improvement of the AI ​​of the COM, they attack the one with the shortest distance, perform the double jump, etc.
The characters accelerate, they begin to run while they are walking in one direction. The speed varies depending on the character.
Added ability Hang (hang from ledges).
Removed the ramp bug.
Added Scrap Brain scenario, for the most ardent Sega fans.
Improved splash and added initial screen to homebrew.
Modified text font, one of the author's own is used.
Added options menu, and possibility to regulate the frequency of appearance of objects on stage.
Added two items to the battle: the Smash ball, which causes an explosion when touched affecting the rest, and a heart to recover percentage.
External links