Sheep Goes Left DS
From GameBrew
Sheep Goes Left
General
Author
Jayenkai
Last Updated
2011/09/09
Type
Arcade Games
Version
2011
License
Mixed
Links
Download
Website
This is a DS homebrew port of the game Sheep Goes Left available for iDevices. It has 100 levels in total, taken from the iOS release.
Features
Spikes.
Lots of Spikes.
Loads of Spikes.
Sheep.
100 levels.
User guide
Lead a sheep to the other side, while avoiding all sorts of traps and obstacles.
The game has 8 worlds with 5 levels each.
At the beginning of each level you have 3 lives, but if you lose them all you will be taken back to the first level of the world you are at.
If the sheep died in a pack, it gets a spike. If it dies 3 times in a pack, and earn 3 whole spikes, you'll earn a Skip button for that pack.
After managing to make it through a whole pack without losing a single life, you will earn a nice little sheep, who'll sit on the menu where the spikes were.
There are 20 whole sheep for you to collect.
Controls
Stylus - Select world
Up/A/B - Jump
Left - Move
Screenshots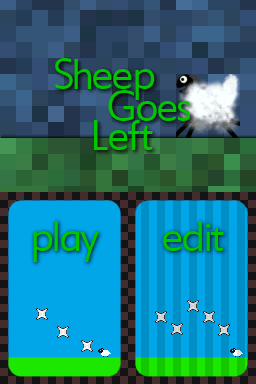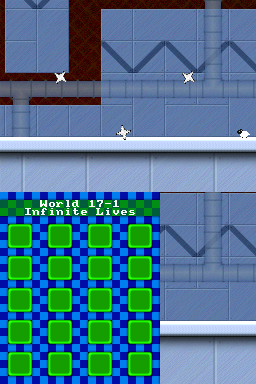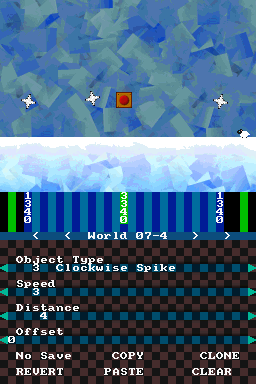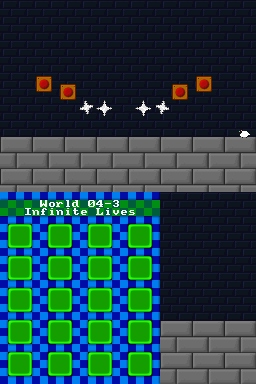 Compatibility
Tested on R4DS R4 Wood (firmware v1.33).
Changelog
Proper Release #1
100 levels, all taken from the iOS release, but tweaked so they work properly.
10 different backgrounds split up into 20 whole worlds, each with it's own BGM.
Saving, so everything has to be unlocked in a proper order. Woot.
Editor, so you can start to build your own awesome Sheepy Level collection.
Is Hard.
External links