Sawyers Stories - Time For The Chickens to go to Sleep GBA
From GameBrew
Sawyers Stories - Time for The Chickens to go to Sleep
General
Author
Chukoloco08
Last Updated
2021/05/09
Type
Adventure
Version
2021
License
Mixed
Links
Download
Website
Sawyer's Stories: Time for The Chickens to go to Sleep is a short animated story for the Game Boy Advance.
The homebrew was presented in the GBA Jam 2021.
User guide
Deep peep, deep sleep!
The Clucking Chickens were having a great day until the moon had risen up to the top of the sky, now they have to go to sleep, and have to prepare for it. So they can have some tweet dreams to start off possibly a better day for them!
Watch and read the first clucking fun story on your Game Boy Advance that is animated and created using Flipaclip by Sawyer Ique!
Screenshots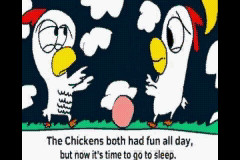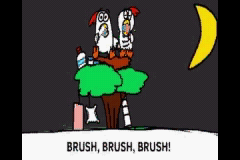 Known issues
This ROM does not have a valid header and will not work on a GBA.
External links