Sator/Arepo/Tenet DS
From GameBrew
Sator/Arepo/Tenet DS
General
Author
Frodonag (Originally by Oriol Comas i Coma)
Last Updated
2009/02/15
Type
Board
Version
1.0
License
Mixed
Links
Download
Website
Sator/Arepo/Tenet DS (Spanish) is a DS homebrew with 3 mini board games, as the name indicates they are Sator, Arepo and Tenet. It has a multiplayer mode included in case you want to play against your friends.
Features
Possibility of saving games (except for emulator).
3 board games: Sator, Arepo and Tenet with rules included in the homebrew itself.
Configurable games against AI.
Multiplayer games on the same console.
DS-DS Multiplayer Games.
User guide
The homebrew includes:
Sator (2 players).
Arepo (2-4 players).
Tenet (2 players).
Controls
Stylus - Move, Select
Screenshots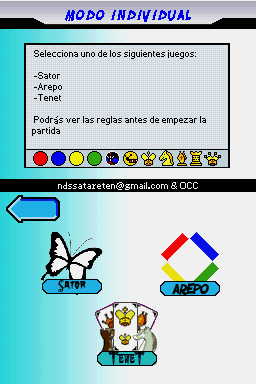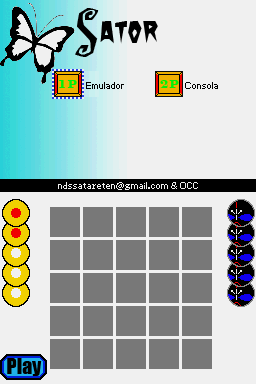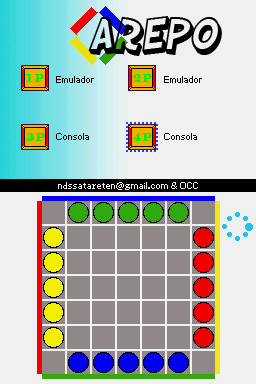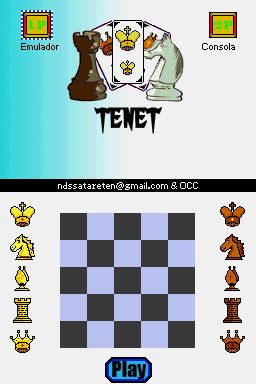 Compatibility
Works on actual DS and Emulator such as NO$GBA.
Changelog
1.0
Save Data (only if you use a NDS console).
Sound Effects.
Music.
Rules of 3 games in the same ROM.
Credits of game.
Play with an AI implemented.
Play with other human players in the same console (for 2,3,4 players).
Play with other human players with local Wifi Connection DS-DS (for 2 players).
View a stadistics of win/lost/draw for 3 games.
External links