STO
From GameBrew
STO
General
Author
Saifi Boïnali, Tamouze Arnaout, Omar Meradi
Last Updated
2010/08/24
Type
Action
Version
Sai/Tam
License
Mixed
Links
[Sai and Tam Download]
Website
STO is a student project. It is a prototype of Nintendo DS hombrew game made with PAlib librarie for C and C++.
User guide
The objective is to run while you defeat the enemies you encounter in your way and avoid getting attacked.
This homebrew has two versions. Each version has different character, made by Saifi or Tamouze.
In the game you are situated in a valley where everyone lives quiet and peacefully including Sai and Tam. Suddenly the villagers are assaulted by a swarm of enemies, and as usual, your characters want to put an end to it. You will have to fight against all sorts of armed monsters.
There are several ways to avoid them, either dodge or attack when you're ready to use the power you can make a shock wave.
Controls
B - Jump
B+Down - Crawl on the floor
Y - Small attack with the sword
X - Stop bullets, use it with complete accuracy
L - Attack from behind
A - Attack with the highest power sword (when you have full power to create a shock wave)
Start - Skip the main white screen, Pause during the game
Select - Skip the main white screen, Play again when you are eliminated
Screensnots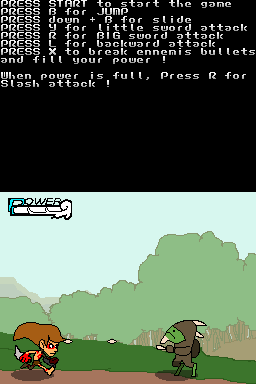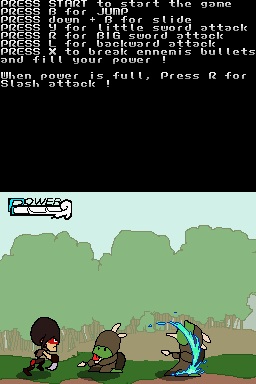 Compatibility
Tested on:
M3DsReal (firmware 4.8)
DSTT (firmware 1.17)

Credits
Character Animation and design: Saifi Boïnali, Tamouze Arnaout.
Developpement: Omar Meradi.
External links