SFCave DS
From GameBrew
SFCave DS
General
Author
Webez
Last Updated
2006/08/24
Type
Action
Version
Update
License
Mixed
Links
Download
Website
SFCave DS is a remake of a very popular internet game, SFCave. SFCave has seen several online remakes involving helicopters and other flying devices as the main object. It includes 2 game modes, where the Classic mode involves the classic game with little to no changes and the Remix mode offers a few graphical changes.
It was submitted for the NeoFlash Summer Coding Competition 2006.
Features
2 game modes: Classic and Remix.
2-players mode.
Save function.
Installation
Two versions are included. One with FAT that loads music.mod (put it in root and change it for another mod if you want) and records.rcd (created if it doesnt't exist in root).
And a second one that doesn't use FAT and doesn't have sound or record saving.
User guide
You have to control the worm to keep moving forward without hitting the wall and obstacles.
Classic Mode - Give you the exact as feeling of the famous internet game.
Remix Mode - Use the DS power to bring a better scroll and graphics and some playability changes.
2-player option is available in both game modes. There is also an option to select Normal or Fast mode for Remix mode.
Controls
Stylus - Select game mode (Classic/Remix)
L - Change between Normal and Fast mode (Remix)
Touch screen or A/B/X/Y - Move the worm up and release to let it fall (Player 1)
D-Pad - Move the worm up and release to let it fall (Player 2)
Screenshots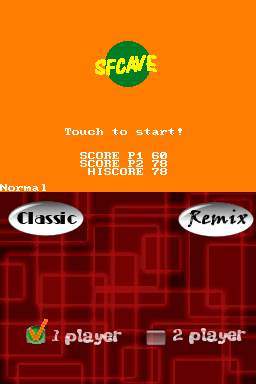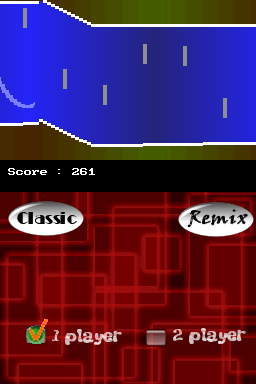 Changelog
2006/08/24
Now mode change (normal or fast) in remix is not reset to normal each game.
External links