Rominator
From GameBrew
Rominator is a Nintendo DS rom manager with many features and extras.
Features
Drag & Drop right into the window.
Optional auto-renaming of your games (Including rom number, country, and release group).
Optional Rom Trimming upon flashing (Safe Trim Included).
Database updatable online through the program anytime.
Organize your games into as many lists as you want - just make a list, and from your Games list drag and drop as many games as you want onto your user-made list.
Smart-List system - Create a list with specific criteria that will update when your rom library updates.
Detailed view of the game - including internal name, cartridge code, icon, and box art.
Copy games straight to flash card.
Flash card organization - manage and delete roms.
Sub-Directory scanning - keep your roms in their original folder.
Multiple colourful themes.
Save Game Association.
Fast-Find to quickly find the game you're looking for.
RomeR Functions: Modify Rom Information.
Create a queue list of roms and flash the list straight to your card.
Patch Trainers into roms on the fly.
Icon Collection Database - Store all of your favourite icons.
And more.
User guide
Quick Start Guide is available in the provided file.
Database update
Database update file 6174 is included in the package.
Windows:
For Vista and newer, files goes in \Users\[username]\AppData\Roaming\Rominator Data\.
For older version of Windows, files goes in \Documents and Settings\[username]\Application Data\Rominator Data\.
Press Windows key + R will bring up Run type in "%appdata%" without quotes and click OK, navigate to Rominator Data folder.
Macs:
File goes into ~/Library/Preferences/Rominator Data.
Open Finder, press Command + Shift + G, type in "~/Library/Preferences/Rominator Data" without quotes and hit Go.
Boxart update
Boxart update file 6174 is included in the package.
Windows:
Files goes in \Documents and Settings\[username]\Application Data\Rominator Data\NDS Box Art.
Macs:
File goes into /user/Library/Preferences/Rominator Data/NDS Box Art.
Screenshots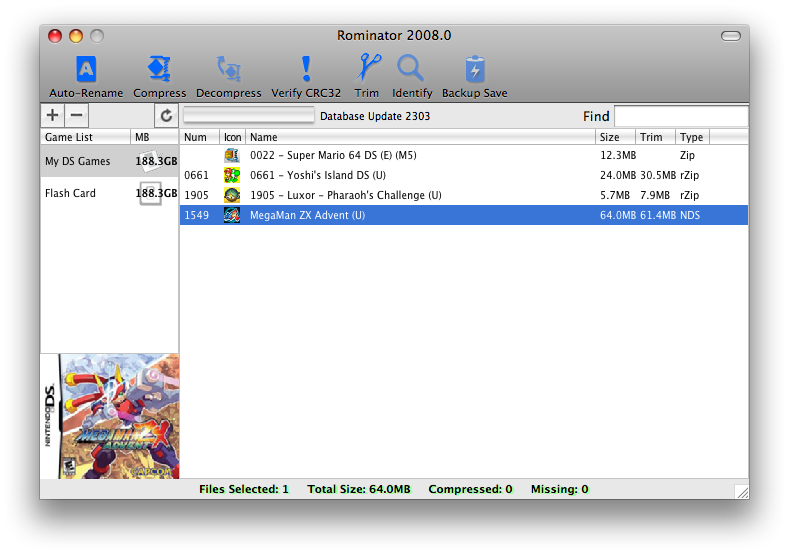 Known issues
Linux version is no longer supported as the features that Rominator has are incompatible with it.
Changelog
Version 2008.20 2008/12/07
[+/-] Code optimizations here and there.
[FIX] When the feedback system is offline, you're notified right when you go into it, instead of when you try to send the feedback.
[+] Added Hungarian as another DS game language.
[+] If you lost your registration, all that's required is your Email Address; Rominator will re-send you your license details.
[FIX] When setting up a flash card for Save Defender, all of your flash cards are listed there, just select the one to create the backup for.
[FIX] Fixed the WiFi tag when renaming a game (it showed 'X', it now shows '[WiFi]' when renamed).
[FIX] Games in the DS Catalog are now initially sorted properly.
[+] When making a donation, the license agreement is shown automatically, make sure you understand it before making a donation.
Version 2008.19 2008/10/30
[+/-] Completely rewritten the way Rominator handles serial numbers. The Key Code is no longer required and the serial will not change if you need to format your computer. Serials can also be auto-retrieved through a Lost Registration system.
[+] Added a license agreement in the Registration Area. Be sure you read it.
[+] Added two more game languages: Czech and Polish.
Version 2008.18 2008/09/27
[FIX] Fixed a bug that wouldn't allow you to customize the toolbar [Windows].
[+/-] If you've already entered in the contest, the contest window will no longer just close itself, so you can still read the rules (but not enter twice).
Version 2008.17 2008/09/21
[FIX] Temporary files are cleared properly when decompressing Zipped games.
[+] Added a new option in the General Settings to automatically download the DS icon for Zip files. This way you do not need to identify them to retrieve their icon if they already have database info.
[+] New menu item in Tools menu, 'Retrieve Icons Online' -- Can retrieve icon data if the icon is missing or corrupt. Same goes with a contextual menu as well as toolbar button.
[+/-] Speed up of CRC32 verification as well as ZIP identification.
[+] Added additional renaming tags: %h - Header, %e - Genre, %c - CRC32, %w - WiFi.
[+] If you look in the Help menu, you'll notice a super-secret menu item. Can't tell you what it does yet, but you will find out.
Version 2008.16 2008/08/26
[FIX] If you were to run Rominator fresh off another computer or tried to put it on a USB stick with the Rominator Data folder, the settings file would not be created and Rominator would crash. This has been fixed.
Version 2008.15 2008/08/25
[+] Added in extra name processing if you have the Multilanguage Tag in the middle of the name and there is only 1 language, it will now remove the space after the %m (if there is data after the %m tag).
[+/-] Updated cheat download links to cohere with GBAtemp's new cheat directory structure.
[+] Added in a new in-game FAQ system for use with the CycloDS, which can be accessed from the Tools menu.
[+] Added an option in the General Settings to disable the existing file check, so if a file is missing it will not be highlighted red. This will also greatly speed up network access of your games.
Version 2008.14 2008/08/13
[FIX] Bugfix release; fixed a critical bug that prevented flash cards from being displayed in Windows XP/Vista. Sorry.
[+] Renaming games on your EZ-Flash V card will rename the .sav in the SAVE directory as well.
Version 2008.13 2008/08/11
[FIX] The bug which did not allow you to have your flash drive in without a card has been fixed [Windows Users]. You will no longer receive error messages until the flash card is inserted into the drive.
[FIX] Sorting by modification date in Save Defender works properly now.
[+/-] Deleting/removing games from a game list now goes 100x faster.
[+] The EZ-Flash V card is now supported; you can update the cheat database, as well as any games that are flashed or backed up will direct it to the SAVE folder.
[+] Added a new action; You can open the Metacritic Page in your web browser for a game* .
[+] Added a 'Check Dupes' function, which will go through a selected game list and allow you to delete all duplicate games.
[+] Added in ability to export game icons to PNG format.
[+] Added an (X) button beside the Find field, to clear the results and redisplay all your games in the list.
[+] Added a fully features Save Data Manager for importing, transferring, exporting, renaming, and handling your save games for any game you have (whether in your game list or not).
[FIX] Minor bug fixes.
Version 2008.12 2008/08/01
[+] Added new method for customizing the toolbar, as the one created did not work for Windows. Toolbar Customizing window has not changed for Mac OS X.
Version 2008.11 2008/07/31
[+] Rominator Website is online! Visit through the Help Menu. Complete usage documentation available at the website http://www.rominator.net/.
[+] Added a 'Score' column which can be enabled in the View Options* .
[+] Going with the previous addition, a new button called 'Get Score' has been added, and will allow you to retrieve the Metacritic score for the selected games (They must have a Metacritic page or Get Score will be disabled)* .
[+] Added Acekard 2/RPG (AKAIO) to the supported Flash Cards.
[+] Cheats can be updated for the AKAIO firmware.
[FIX] Flashing games to an Acekard 2/RPG will now give their save the '.nds.sav' extension properly.
[+] Can now drag & drop games onto the Rominator icon in the Finder or the Dock (or double click them) and they will be added to the selected game list [Mac OS X].
[FIX] Fixed save importing with some games (such as Zelda).
[+] Added the ability to customize the toolbar, you can now rearrange the buttons as well as choose from a variety of buttons from the different program features.
[FIX] Filtering Size and Trim size now works properly.
[+] Added in a Confirmation Code for the feedback submission. This is to prevent spam as well as make sure a person is sending the feedback and not a robot.
[FIX] Fixed a bug with the DS Game Catalog that would close the connection to the Metacritic Database whenever the catalog was closed, and could not reconnect it until Rominator was relaunched.
[FIX] Misc. small bug fixes - Registered users only.
Version 2008.10 2008/07/07
[+/-] Started using previous compiler again; the Rominator Libs folder isn't needed, feel free to trash it. The new compiler had problems with Windows Vista as well.
[FIX] Fixed bug where cheats would not auto-update on the flash card if Save Defender was inactive.
[FIX] Fixed a couple bugs with checking for and downloading cheats for some users.
[FIX] Fixed an update bug that would not allow an update past v2008.9 (did not recognize v2008.10 as an updatable version).
[+/-] Redesigned the Preferences/Settings window to accommodate for additional features being added in.
[+] Added option to delete missing games from list upon refreshing, instead of deleting them all the time.
[+] Added the ability to change the naming method for games that have 'The' in the title. For example, you can make 'Incredible Hulk, The' into 'The Incredible Hulk'.
[+] Added a new feature for the DS Game Catalog: The ability to view Metacritic Scores and Descriptions. The option to enable this can be found under the General Settings.
Version 2008.9 2008/07/02
[+] Added a Country Filter for the Box Art Manager.
[+/-] Salamantis has updated his Quick-Start Guide to reflect all of the new changes.
[+/-] Minimum donation has been adjusted to $2. I do this for a very valid reason; the PayPal fee. They collect 40 cents on the dollar donation, leaving me with a very small amount, so it doesn't do much impact. I believe asking for the dollar raise on the donation to register Rominator is quite justified with the work that has gone into it.
Version 2008.8 2008/07/01
[+] Rominator now remembers sort column for game lists
[FIX] Fixed Rominator not giving correct name to games compressed with a gamelist that didn't have the name as the 3rd column.
[+] Save Defender renames the name of the flash card if you rename it in the Game List.
[+] If you delete a flash card, it loses it's tie to Save Defender. The ability to re-assign a Save Defender profile to another flash card has been added.
[FIX] Can no longer copy a duplicate game over to another game list.
[+] Upon creating a Flash Card, you can specify what type you have. This will serve for future purposes for card-specific functions. Only supported flash cards have been listen so far.
[+] Flash Cards are editable (Except the path), can rename and specify type by double clicking the card in your List.
[+] Brand new feature: Cheat Downloading. Based on your Flash Card, you can download the appropriate Cheat Database straight from GBAtemp.net. Special Thanks for Narin of GBAtemp for maintaining the cheats.
[+] Along with cheat downloading is Auto-Updating. If a new cheat file is available, Rominator can auto-download it and update your flash card's cheat file silently (Available to registered users only).
[FIX] Size now sorts properly when the column heading is clicked on -- NOTE: Due to a bug in the development environment, Rominator can currently only sort one way with size -- Smallest game to largest game. I am currently trying to find a workaround for this.
[+/-] Changed the way database update is handled; Only has to create temporary data for the DS Database (for decompression).
[+] Added Box Art Manager, which lets you download the box art for the games you have in your lists in bulk (Registered Users Only).
[+] Added 'Known Bugs' in the Help Menu. Any discovered or reported bugs will be added there, so if you see it already in there, don't report it.
[+/-] For Windows, there is now a folder called 'Rominator Libs' which contains all the DLL's Rominator uses. This folder must be in the same Location as Rominator to run. I am not happy about this change but the folks at RealSoftware forced it upon me when I upgraded, so hopefully the next revision of RealBasic will let me pack all of the DLL's back into the application.
Version 2008.7 2008/06/25
[FIX] Trimming games on Flash Card trims properly if game isn't in database.
[FIX] Fixed Manual Renaming for game lists.
[FIX] Going into Preferences no longer clears the rom list view options.
[FIX] Creating a new list with Icon as one of the columns shows icons properly.
[FIX] Fixed renaming bug that wouldn't update the name properly and then tell you the game didn't exist if you tried to do anything with it.
Version 2008.6 2008/06/20
[+] Remember what was viewed in Rom Statistics.
[+/-] Columns can now be resized as well as arranged in any order by dragging them in the View Options.
[+] WiFi Information has been added.
[FIX] Fixed the update bar showing continuously for some people.
[FIX] Fix error when flashing an rZipped game.
[FIX] Fix trimming of games not in database.
[FIX] Fix when refreshing games in list it doesn't update with info.
[+] Added preference for default list view.
[FIX] Speed up importing and displaying Zip games.
[+] Added Filter button in statistics so it doesn't update every small change.
[+] Find function now filters game list to match only the field contents.
[+/-] Having Rominator Data folder is now optional inside the same location as Rominator or the Preferences/Application Data folder.
[FIX] In the 'Get Info' window, games with a '&' in the name didn't show properly.
[FIX] Fixed valid games counter in Rom Statistics.
[+] Added ability to export statistics to Text or CSV.
[FIX] Misc. Bug Fixes.
Version 2008.5 2008/06/02
[FIX] Fixed update progress to reset itself after checking for updates.
[FIX] Much faster importing and loading games in game lists.
Version 2008.4 2008/06/01
[+] Addition of a brand new feature called Save Defender, which allows you to run automated backups of your save files on your flash card, and restore from any backup point. * Only available to registered users.
[FIX] Fixed the displaying of Zip games' icons.
[FIX] Save file gets renamed too if renaming a game on your flash card.
[FIX] Will no longer crash when reading flash cards with firmware files (e.g. _DS_MSHL.NDS).
[FIX] The Toolbar in Windows now behaves properly when you double-click a game to view it's saves, or drag games to your flash card.
[FIX] Found a workaround that will allow the toolbar to automatically be visible in Windows if it was opened when you close Rominator.
[+/-] Added missing OS's to Personalize section of the settings, and removed unsupported OS's.
[FIX] Zip files create temporary folders for extracting when identifying/flashing -- These temporary files are now deleted properly.
[+] Rominator now auto-selects the last save that has been backed up, whether it be a manual backup or when deleting a game and backing up the save.
[+/-] Data will need to be migrated over to User/Library/Preferences [Mac OS X] / Documents and Settings\~username\Application Data [Windows]. Rominator will do this for you if you do not. You might see errors if you do not migrate, it is normal.
Version 2008.3 2008/05/25
[FIX] Quick-fix to make the program run properly.
Version 2008.2 2008/05/25
[FIX] If a game has a header with an invalid character (e.g. ZELDA_DS:PH) it will post-process the name and allow you to backup your saves properly.
[+] Message Bar shows the Total MB Trimmed when selecting games.
[FIX] If a game had a '?' in it's name and was renamed, it was not properly processed by Rominator (Windows Only).
[FIX] DS Game Catalog; Icon now clears if a game is selected without a cached icon.
[+] Shift+Clicking on the Box Art in the main window will force-download the box. This is good if numbering is messed up and the game downloads a box for another game.
[+] Added an easter egg! Your clue: An Internet Phenomenon. Good luck.
Version 2008.1 2008/05/24
[FIX] Serial Number did not register on some systems.
[+] Dragging and Dropping your save games into a game's Save Window will import it now.
[+/-] Change 'Import' in the save window to 'Export', and can export a save to a folder.
[FIX] Save Window is now larger and movable.
[FIX] The 'toolbar shadow' doesn't show anymore and cover the top of the window when it's not visible.
[+] Saves with the extension ".nds.sav" are now recognized (as per the Acekard 2).
[FIX] Auto-renaming upon drag and drop would not rename the file; this has been fixed.
Version 2008.0 2008/05/23
[+] Rominator v2008 has officially been released.
Credits
A huge special thanks to Salamantis for assisting in the development in Rominator, as well as providing the Quick Start Guide.
External links