River Crossing
From GameBrew
River Crossing
General
Author
Gedeon34
Last Updated
2007/07/06
Type
Board
Version
2007
License
Mixed
Links
Download
Website
River Crossing (French) is a DS homebrew game adapted from a board game of the same name.
User guide
There are 3 types of puzzles in the game:
Crossing - Take character across the river. For that, you need to make him carry and move the board in order to create a path progressively.
Rescue - While following the same principle, you must create a path to save the dog from the left bank.
Together - Following the same principle of crossing the river, this time not only with the character but also the dog. The constraint is that the dog can only stand on the small islands.
Note: You can toggle No Character mode during the game for faster gameplay/skip the animation.
Controls
D-Pad - Move character, Collect/drop a board
Stylus - Collect/drop board
X/Y - Change level
A - Move dog to other island when built (Together mode)
Select - Switch to No Character mode
Start - Return to start menu
Screenshots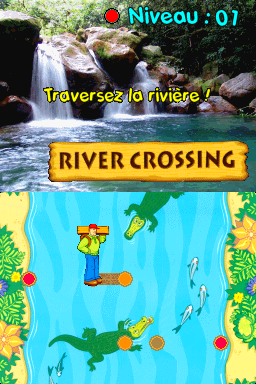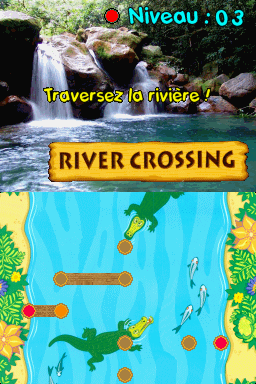 External links