Reverse Brick Breaker
From GameBrew
Reverse Brick Breaker
General
Author
Bobbyloujo
Last Updated
2010/10/03
Type
Arcade Games
Version
2010
License
Mixed
Links
Download
Website
Reverse Brick Breaker a DS homebrew game similar to Brick Breaker with a small twist. Rather than controlling the paddle and using the ball to break the bricks, you will be the brick.
User guide
Move the brick and dodge the ball. The game has 1 level available.
Screenshots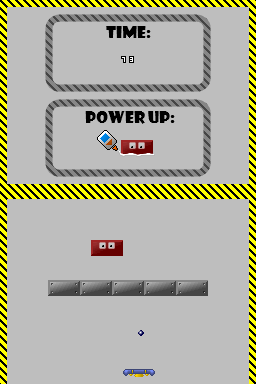 Changelog
Updated 2010/10/03
Updated 2010/09/07
Added the slow down power up.
Power up indicator on the screen works.
Added a pause screen when you press start.
Pay no attention to level 2.
Updated 2010/09/03
Add rockets from the pad.
Add balls that follow in a slower speed.
Minor bug fixed.
Added like 2 other power up things.
Updated 2010/09/01
Added the timer for the level.
External links