Remote Touch DS
From GameBrew
Remote Touch DS
General
Author
Tobias W. Kjeldsen
Last Updated
2009/12/31
Type
Utilities
Version
0.6
License
Mixed
Links
Download
Website
Remote Touch DS gives you the opportunity to remote-control your computers mouse, keyboard and other things from your Nintendo DS hand-held console. This solution is not like remote desktop, but more like an advanced remote control.
The server will run on all systems that is able to run Java applications - this means just about every system possible (Windows, OS X, Linux and other unix variants) - the only problems that could emerge would be with media key key-mappings or shutdown/restart commands.
It was voted the 10th Top DS homebrew in the 2009 best DS homebrew contest.
Features
Client and server configuration.
Server program must be running on the PC to be controlled.
Installation
Remote Touch DS is a client-server based solution. Therefore you will need to have a daemon/server up and running on the computer you want to remote control. The daemon/server is located inside the server folder. You can launch start_server_win.bat on Windows, or start_server_unix.sh on unix systems. You also need to have Java installed on your system.
Download and extract the latest version file.
Copy the /server/ folder from the .zip to the computer you want to control.
Launch start_windows_server.bat and the program will confirm it's running on port 7777.
Extract rtdsclient.nds from the /client/ folder of the .zip to your card.
Run the .nds.
Enter the server's IP address and port number (default 7777).
Note: Make sure you open up port 7777 if your PC has a firewall. Use ipconfig to find out the IP address of your PC.
Controls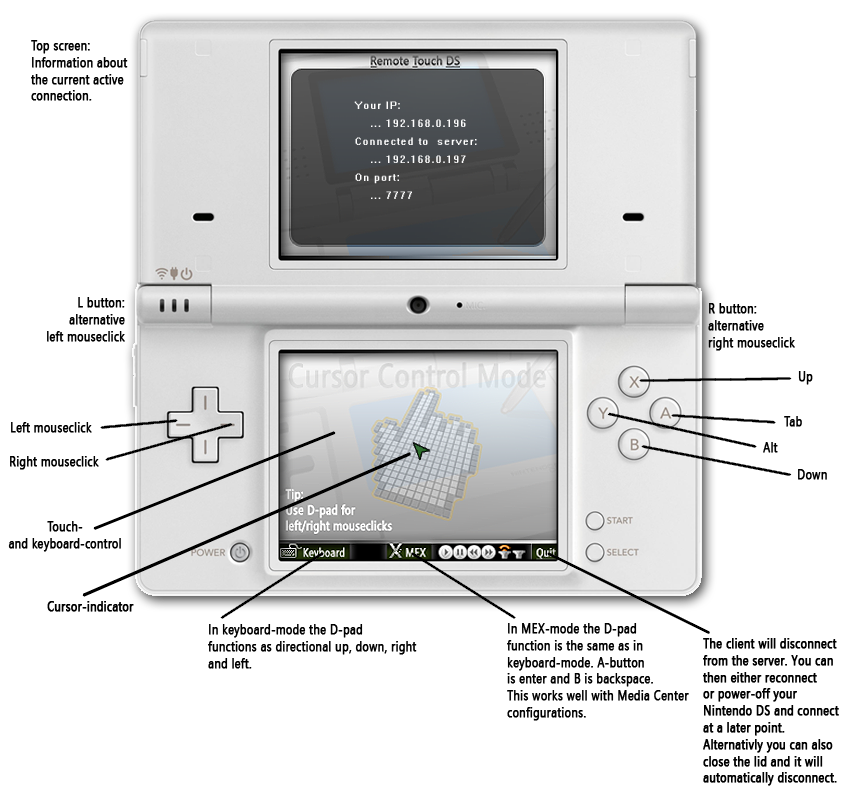 Screenshots
Preview slides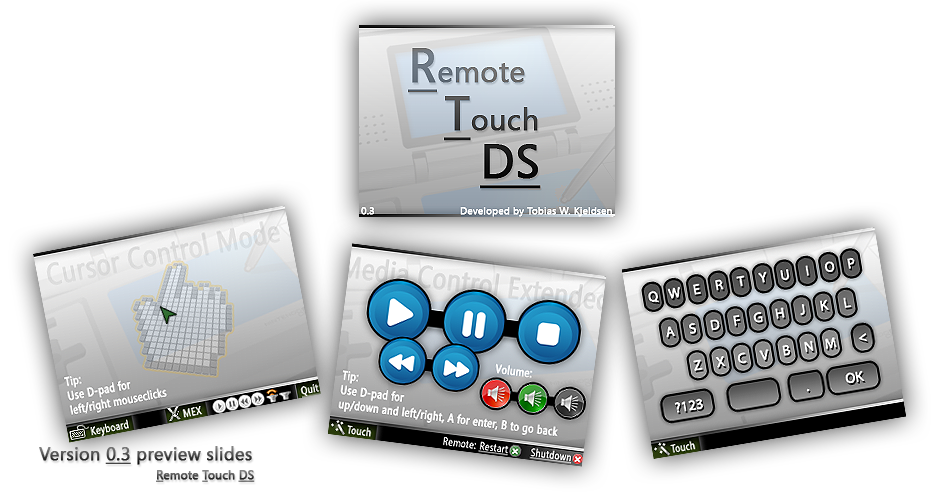 Server-backend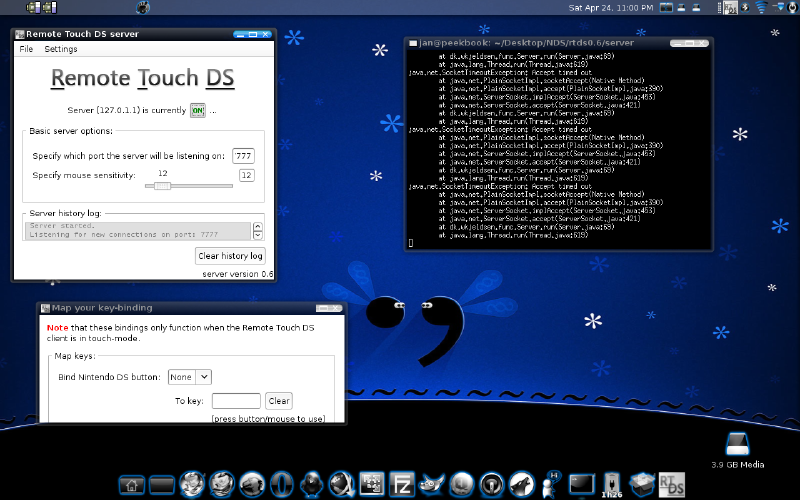 Media
Remote Touch DS in action (Mads Kjeldsen)

Remote Touch DS in action (Mads Kjeldsen)

Known issues
EzFlash Vi not supported (possible partial missing DLDI support).
Changelog
0.6 major
Up on D-pad in "cursor"-mode for middle mouse click.
Complete revamped server-backend rewritten in Java with full GUI (will work cross-platform; Windows and OS X/*unix etc.).
Add support for custom key-mapping (gamepad-like feature) - configure this with the new server-backend GUI.
Custom adjustment of mouse acceleration.
0.3 major
Y button in "cursor"-mode for ALT.
A button in "cursor"-mode for TAB.
X and B in "cursor"-mode for scroll.
Adding left/right shoulder buttons to also mimic mouse clicks.
Accelerated cursor movements; much like a real touchpad.
Fixing problems when reconnecting to the server. You are now able to reconnect to the server without having to restart the server!
Implementing a battery-saver feature - when the DS lid is closed.
Upgraded to dswifi to 0.3.10. The wifi connection is much more stable now.
Corrected X and Y on keyboard and fixed some of the currently missing keys. I have a problem locating all the keys.
Added onscreen cursor to the client making it easier to see last cursor position.
Removed manual input of server IP and port. You now need to put a "rtds_config.txt" in the root of your cartridge with this data.
Server partially rewritten - fixed problem with reconnect.
Client GUI features/eyecandy implemented. Also better netcode.
0.2.2 hotfix
Minor changes on the server backend - possible problem with shutdown/restart on XP (maybe) fixed.
0.2.1 hotfix
Not able to connect properly when manually inputting connection data now fixed.
0.2
Media Control Extended (MEX) - good for Media Center or similar.
Keyboard fully calibrated and working with key press sound for comfort.
Remote restart or shutdown of your computer - good for those late night movie sessions where you just want to shutdown your computer directly from the comfort of your bed.
Added support for a "rtds_settings.txt" config-file on your cartridge with connection data - look in README.txt for more info.
0.1 first public release
Mouse and keyboard support + media play controls. Keyboard needs serious calibration, will be done later.
External links