RapidRollDS
From GameBrew
RapidRollDS
General
Author
wolped
Last Updated
2008/08/19
Type
Other Games
Version
2008
License
Mixed
Links
Download
Website
RapidRollDS is a DS homebrew game where player controls a orange ball from platform to platform with the spikes on top of the screen to escape.
It was an entry to the NEO Summer Coding Compo 2008.
User guide
The objective is to get as many points as you can while avoiding the spikes and hazards.
The hazards are:
Spikes at the top of the screen will kill you if you touch them.
Spiked platforms may appear occasionally and kill you.
Falling off the botton of the screen will kill you.
You can get an extra life by getting hearts that may appear on platforms.
When you lose all of your lives, you have the option to submit your score on the PAlib leaderboard site. You can view all the scores from here.
Controls
Left/L/Y - Move left
Right/R/A - Move right
Screenshots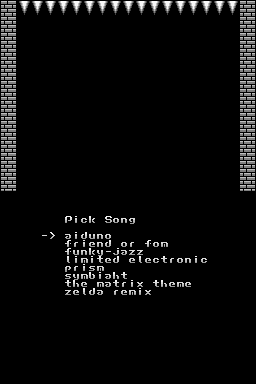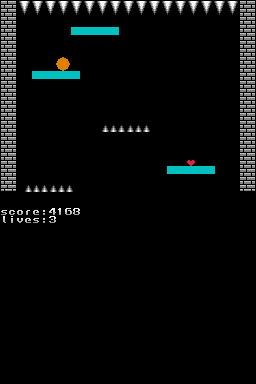 Media
RapidRollDS (wolped08)

Compatibility
DLDI support is not required. Works on R4 DS.
Credits
Thanks to everyone involved with devkitPro and PAlib, the people of PAlib on freenode.
External links