RGB DS
From GameBrew - a wiki dedicated to Video Game Homebrew.
RGB DS
General
Author(s)
UVaSGD
Type
Puzzle Platform
Version
2009
Licence
Mixed
Links
Download
Website

RGB-DS is an inventive 2D puzzle platformer intended for the Nintendo DS console. RGB-DS takes advantage of the DS' unique dual-screen feature by placing two connected worlds on either screen, with gravity reversed in either world.
This homebrew was an entry of NEO Spring Coding Compo 2009.
User guide
Navigate through the two screens in order to get to the star at the end of each stage.
Take advantage of this reverse gravity concept, conservation of momentum and various other power-ups to navigate the puzzles each connected set of worlds offers.
The top screen is the blue world where gravity flows downward, and the bottom screen is the red world where gravity flows upward. When you travel between the two worlds, you conserve your momentum.
Avoid spikes, open doors by buttons. Place a block on the button to keep the door open.
Blocks come in three different colors.
Green blocks - Observe the gravity of the world they are in (like the player).
Red and Blue blocks - Continue to act as though they are still in their own world (e.g. a blue block will fall down, even in the red world).
Currently all levels are unlocked from the beginning. The number of stars(*) next to each level indicates its relative difficulty.
Controls
D-Pad - Move
A - Jump
B - Grab/drop blocks
Start - Restart, Quit level
Screenshots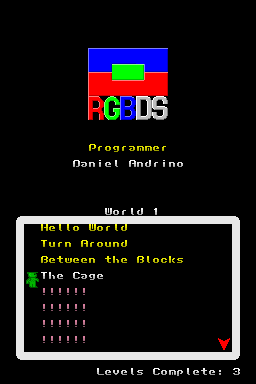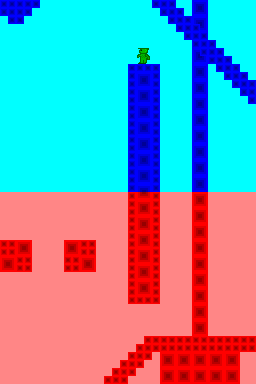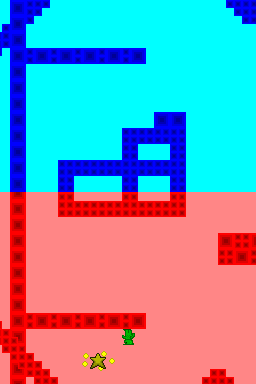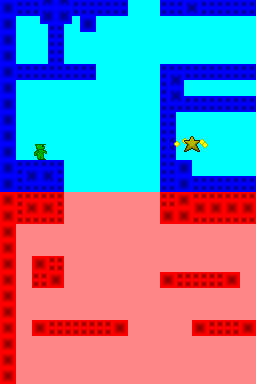 Media
RGBDS Trailer (StudentGameDeveloper)

RGB DS - Example Level (StudentGameDeveloper)

Credits
The game was developed by:
Jeffrey Gaither (director, game concept, programming).
Nick Parisi (programming).
Dan Andrino (programming).
Akshay Joshi (programming).
Matt Yu (level design).
Steven Mond (programming, level design).
External links