QuoDS
From GameBrew
QuoDS is a DS port of a game called Gnome Quod. The goal of the port was to add a DS-friendly interface while keeping the (quite addicting) game mechanics.
User guide
The game is similar to Connect Four only that you need to draw the corners of a square instead of a row.
Can be played with more than one person though built-in AI.
Screenshots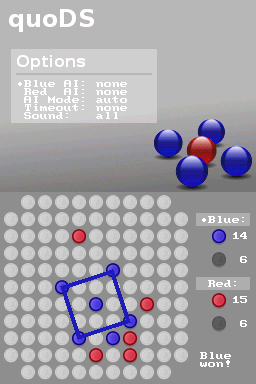 Compatibility
Tested with no$gba and DeSmuME.
External links