Puyo Puyo - 15th Anniversary
From GameBrew
Puyo Puyo! 15th Anniversary
General
Author
Puyo Nexus
Last Updated
2016/05/03
Type
Translations
Version
1.2
License
Mixed
Links
Download
Website
This is an English translation patch for Puyo Puyo! 15th Anniversary for the Nintendo DS.
Everything including the story, user interface and tutorials have been translated, except for: Download Play (people without the game cartridge, who use download play will be in Japanese) and ranking next to your name in Wifi Puyo Puyo.
Installation
This patch must be applied on the 0866 version of the game.
Game information
Japanese title
ぷよぷよ! Puyopuyo 15th anniversary
English title
Puyo Puyo! 15th Anniversary
ROM information
File
0866 - Puyo Puyo! - Puyopuyo 15th Anniversary (Japan) (Rev 1).nds
Decrypted CRC32
D062A62B
Decrypted MD5
A765EBC1366259D09C4BE8BA479D059E
Decrypted SHA-1
5DC1D9B59EE4537A64C27BCE92B2DB50B86D7C0C
Encrypted CRC32
BFAC2EA1
Encrypted MD5
74D29B0FCC188EBDFEB484C93D9DCCFA
Encrypted SHA-1
4499B0DCDC2847D62B056BF3EF90EBCD623E0F58
Apply the patch to your ROM:
Screenshots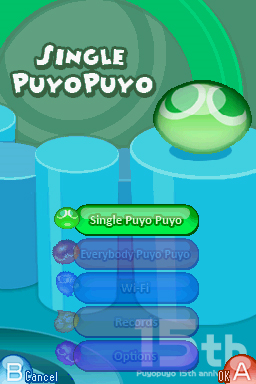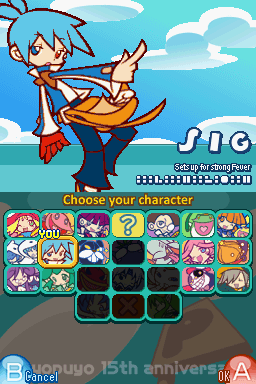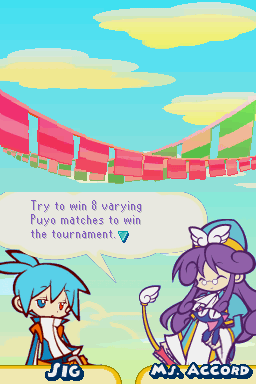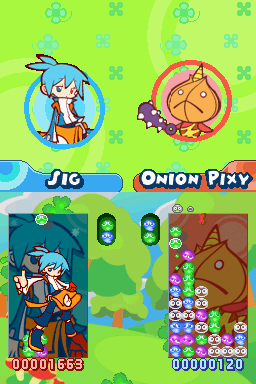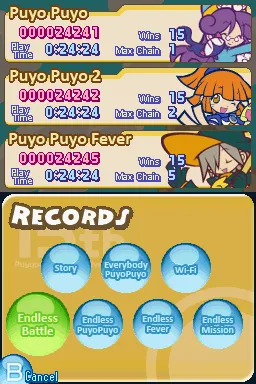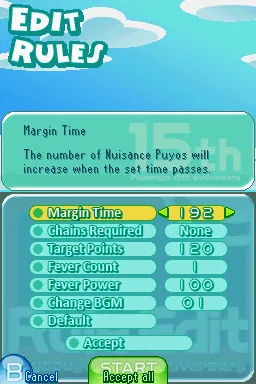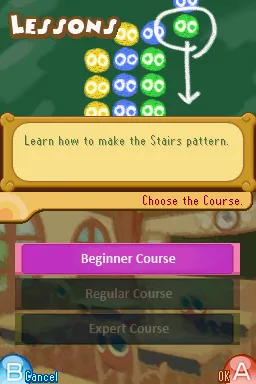 Media
Puyo Puyo! 15th Anniversary v1.1 (2007, NDS) - 01 of 22: Amitie / アミティ [English][720p60] (Rubycored)

Changelog
v1.2
Not available to download on the internet: fixes a bug in Wifi mode - only the person who disconnects will lose points instead of both players.
v1.1
"0866 - Puyo Puyo! 15th Anniversary": fixes the mentioned bug..
v1.0
"0766 - Puyo Puyo! 15th Anniversary": contains a save bug. You can only save 255 times.
Credits
Project leader and romhacking - Hernan.
Translation - Momochi.
Script editing - Baby Bonnie Hood.
Image editing - Chrono_Tata.
Also thanks to - Yoshi, Tangerine, and also the RomHacking.Net community.
External links