Puerto Rico DS
From GameBrew
Puerto Rico DS
General
Author
johanb123 (Andreas Seyfarth)
Last Updated
2006/07/29
Type
Board
Version
290706
License
Mixed
Links
Download
Website
Puerto Rico is a clone of the German boardgame Puerto Rico, copied from Ben Harrison's Windows and Linux version of the boardgame.
The four player game, two humans and two AIs, is included.
User guide
The players are plantation owners in Puerto Rico in the days when ships had sails.
Growing up to five different kind of crops - corn, indigo, sugar, tobacco and coffee - they must try to run their business more efficiently than their close competitors: growing crops and storing them efficiently, developing San Juan with useful buildings, deploying their colonists to best effect, selling crops at the right time, and, most importantly, shipping their goods back to Europe for maximum benefit.
For single player, leave remote players at zero.
To start a multiplayer game, set remote players to be the number of opponents you're expecting, then hit A/start. To join an existing game, choose choice existing game. All players must have connection saved to the WFC settings (with Mario Kart DS or any other official wifi game).
Controls
Most functions are performed with Stylus, with limited support of the D-Pad.
Start - Pass
Screenshots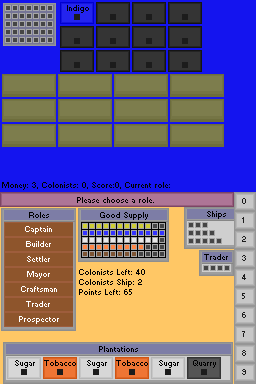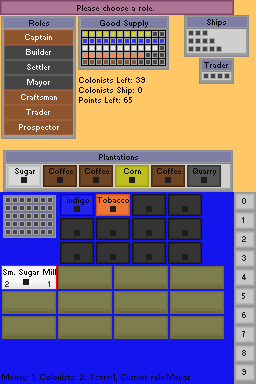 Compatibility
Tested and works on DeSmuME and NO$GBA.
Known issues
Game may crash occasionally while obtaining an IP address - so when you get a red screen before game starts, it is advised to try again.
At the present, the multiplayer server is windows-only (and only supports one game at a time).
There's a bug that'll let you get free colonists. It was not fixed for testing purposes.
External links