Poker Blinds Timer
From GameBrew
Poker Blinds Timer
General
Author
der-Leo
Last Updated
2009/07/16
Type
Other Apps
Version
1.0
License
Mixed
Links
Download
Website
Poker Blinds Timer is a Poker tournament blind timer for all Poker player (specifically for the Texas Hold'em variant).
It was an entry in the Scenery Beta 2009 NDS section.
User guide
It allows you to take a glance of the relevant information including the time of the games, value of the current or subsequent blinds and the current round you are playing.
You can adjust in brightness of the lower screen to save battery, while keeping the brightness of the upper one (which is the one that shows the relevant information at all times). In its complete menu of options you can configure parameters such as the number of rounds, the time or the value of the blinds to your liking.
Screenshots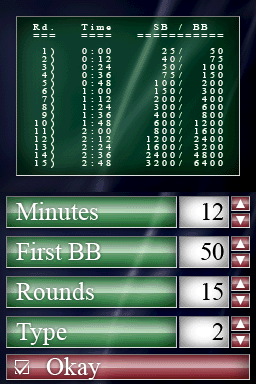 External links