Play Boot Ds
From GameBrew
Play Boot Ds
General
Author
Master Sonic
Last Updated
2009/09/19
Type
Operating systems
Version
1.0
License
Mixed
Links
Download
Website
Play Boot Ds is an application that is able to change the booting screen of homebrew.
Features
Ability to switch between eight different boots (Game Cube, Game Boy Advance, PlayStation, PlayStation 2, and Xbox Megadrive).
The intros has sound.
Unlike the PSP, this homebrew does not touch or alter the NDS, so it is absolutely secure.
Only works in homebrews.
Installation
Place the folder PlayBootDs, .nds and PlayBootConfig (choose either Spanish or English) on the root of the flashcard.
Put the homebrew that you want to launch after the intro in the folder and with the name rom.nds (be careful with putting homebrews that only work when they are in the root).
Run the PlayBootConfig that you select which bootscreen to run. Press A to confirm and the NDS will restart.
Now go to PlayBootDs and execute it, it will read the configuration and show the intro and once it is finished it will load your rom.nds.
User guide
You can choose to run any of the booting screens from the following systems:
Game Cube.
GameBoy Advance.
PlayStation.
PlayStation 2.
Megadrive.
Xbox.
Screenshots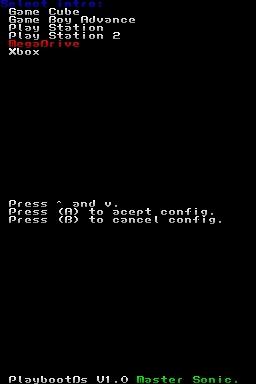 Compatibility
Tested on:
M3DS Real (firmware v4.3)
TTDS/DSTT (unofficial firmware 1.17a07)

External links