Pixelarter GBA
From GameBrew
pixelarter is a small pixel art program for the GBA.
It uses bitmaps instead of tiles and lacks some qol features like holding down directions.
User guide
As soon as you start, you are presented with a blank canvas.
Controls
D-Pad - Move
A - Draw
B - Erase
R/L - Switch color
Select - Clear canvas
Screenshots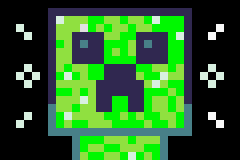 Compatibility
Can be used on DS with a GBA hypervisor.
Known issues
No save, control is a little tedious at times.
External links