Picroxx 3DS
From GameBrew
Picroxx!
General
Author
Substance12
Last Updated
2016/02/03
Type
Puzzle
Version
0.2
License
Mixed
Links
Download
Website
Source
Picroxx! is a Picross homebrew clone for the Nintendo 3DS console. The purpose of the project is porting almost every single puzzle from all mainstream Picross games, currently half the puzzles from Mario's Picross are available (comprised of 64 levels).
It's fully programmed in Lua, running under the LÖVEPotion framework. The game utilizes a very simple format for levels. They only contain four lines of code and the actual puzzle in Lua tables. When loading a puzzle, the game will automatically parse the file into a playable level.
Installation
Available in 3DSX/SMDH format.
User guide
Picross is, a series of Sudoku-ish puzzle games in which you have to fill up spaces to discover a hidden picture.
It gives you numeric hints for each row and column and you have to figure out which spaces to fill, leaving a gap of at least 1 cell between every line of filled cells.
You can switch between Painting mode and Marking mode, which can avoid you from clicking the cell by accident.
Controls
Tap on a cell - Fill
X/B - Switch between Painting mode and Marking mode
Start/Select - Bring up the pause menu
A - Zoom in (15x15 puzzles)
Circle Pad - Move the camera around (15x15 puzzles)
Screenshots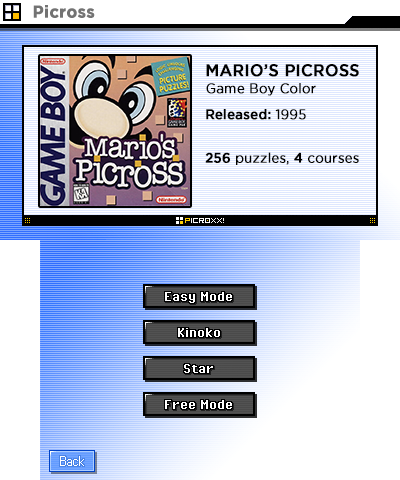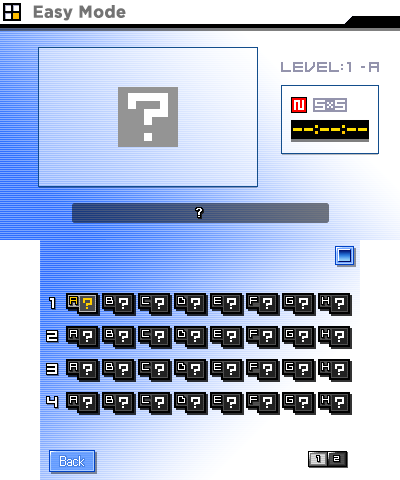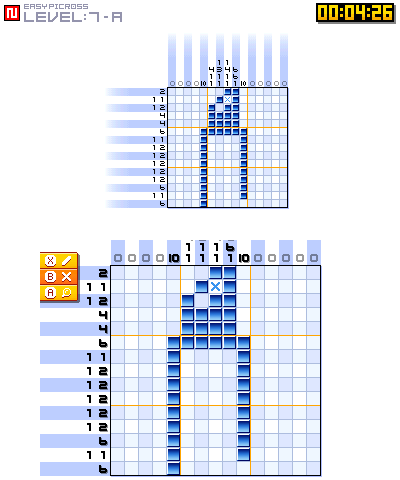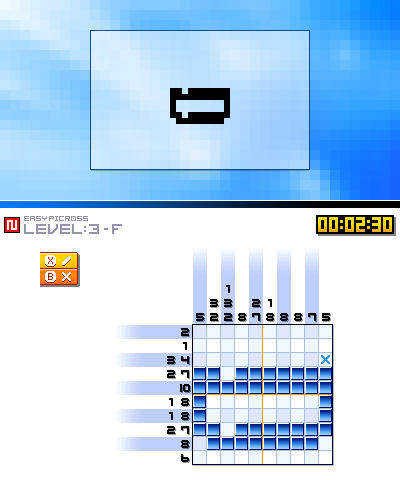 Compatibility
To play it, you need a homebrew-enabled Nintendo 3DS system. It's been confirmed to work on New Nintendo 3DS (XL) but it hasn't been tested on Nintendo 3DS, Nintendo 3DS XL and Nintendo 2DS.
External links