Persona Q2 Save Editor 3DS
From GameBrew
Persona Q2 Save Editor
General
Author
Dasanko
Last Updated
2022/05/01
Type
Hack Utilities
Version
1.1.0.0
License
Mixed
Links
Download
Website
This is a save editor for Persona Q2: New Cinema Labyrinth. It allows you to edit the character's HP, SP, stats, experience, level, name (P3/P3P/P4/P5 MCs only), the inventory, the gold and the team gauge.
It also allows you to edit the character's persona's skills, as well as the equipped sub persona and their skills, level and experience. There's also a feature to completely fill the Enepedia and another to replace all currently equipped weapons and armours with the best ones for each character, as well as a feature to generate a 100% map file.
User guide
If you're playing on an actual console, decrypt and extract the save file (001SAVE, 002SAVE or 003SAVE) using something like JK's SaveManager.
If you're playing on an emulator, such as Citra, the save file shouldn't be encrypted and work as-is. The save data location for Windows is located inside %appdata%\Citra\sdmc.
Screenshots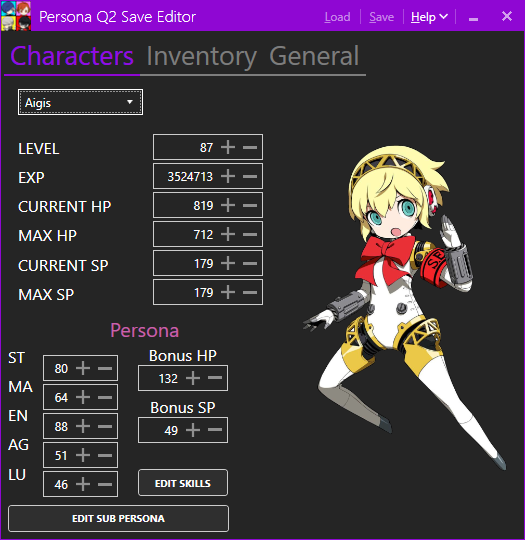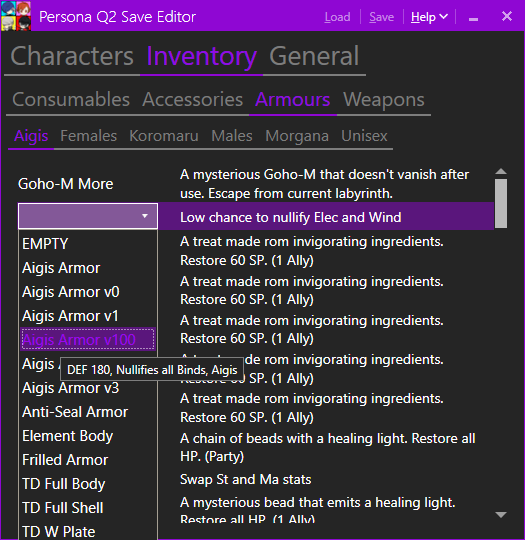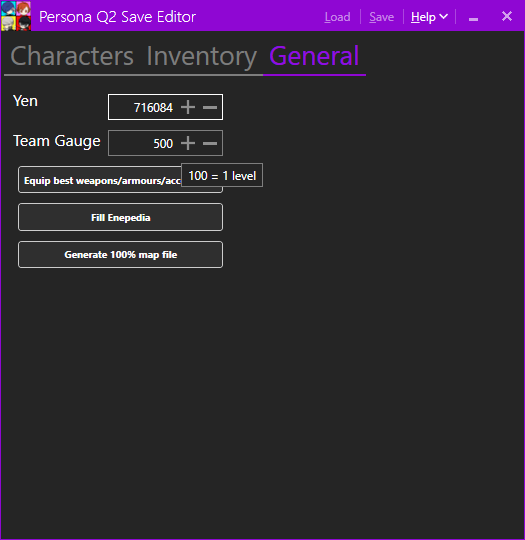 Changelog
1.1.0.0
Added a check to ensure a Sub Persona is equipped before allowing to edit one, sorted characters in alphabetical order, removed duplicate skills from the list, fixed broken/missing skill types.
1.0.0.0
External links