pdf2cbds
From GameBrew
pdf2cbds
General
Author
ys (Jorge S. de Lis)
Last Updated
2008/09/14
Type
File Operation
Version
2.0
License
GPL
Links
Download
Website
This is a script to convert PDF files to CBDS files, can be used for Comic Book DS.
As of this version the script can be run standalone on almost any Linux environment. Integration with KDE4 (Konqueror, Dolphin) and Gnome (Nautilus) is also available.
Installation
Run the INSTALL_kde4.sh or INSTALL_gnome.sh, or if you only want the standalone script copy pdf2cbds.sh someplace over your PATH.
Please note that INSTALL_kde4.sh expects your KDE dir to be ~/.kde. It won't work as is on Ubuntu Hardy 8.04 and earlier versions.
Screenshots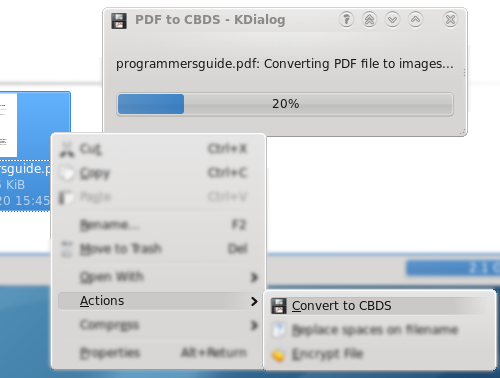 Changelog
2.0
Added KDE4 and Nautilus integration.
Konqueror 3.x is not supported anymore.
Install scripts for KDE and Gnome.
Check for dependencies before running.
External links