PSPsych PSP
From GameBrew
PSPsych
General
Author
Anuj Asher (Monk9899)
Last Updated
2011/05/03
Type
Other
Version
update
License
Mixed
Links
Download
Website
PSPsych is a random coin tossing and dice rolling application for your PSP coded by Anuj Asher (aka Monk9899).
It is featured at the PSP Genesis Competition 2011.
Installation
Copy PSP folder to the root of your Memory Stick.
User guide
Feeling indecisive? Not sure?
Need to toss a coin? Roll a dice? Don't have one?
Then PSPsych is all you need!
The application offers the following methods in making your decision.
Roll the dice.
Flip the coin.
Note: Cheat mode is only available for coin toss.
Controls
Circle - Skip splashscreen
L+R - Quit
Menu:
Left/Right - Change selection
Cross - Make selection
Dice/Coin:
Cross - Roll/Flip again
Circle - Go back
Cheat mode:
L (hold while selecting coin mode) - Heads mode
R (hold while selecting coin mode) - Tails mode
Square (in coin mode) - Toggle heads mode on/off
Triangle (in coin mode) - Toggle tails mode on/off
Screenshots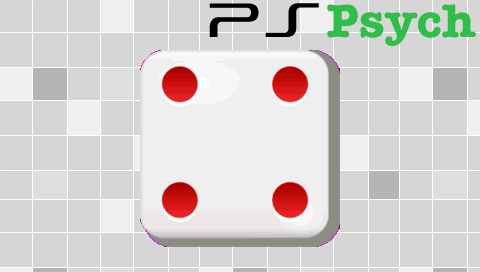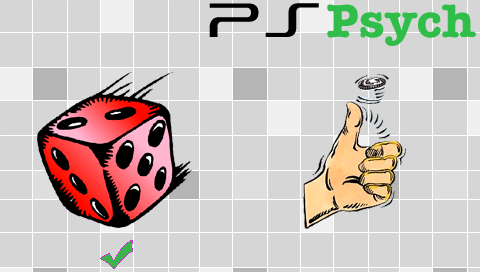 Changelog
2011/05/03
Added Rigged Mode.
Coin now comes at random angles.
Open Source.
2011/05/01
External links