PSP Hardware Alarm Suite II
From GameBrew
Hardware Alarm Suite 2 for PSP
General
Author
Mr305
Last Updated
2009/10/05
Type
Utilities
Version
2.7 bld 1730
License
Mixed
Links
Download
Website
PSP Hardware Alarm Suite II is an alarm application which utilizes the PSP's hardware capabilities, setting an alarm that will wake up the PSP from either Sleep Mode or Powered Off (standby) mode. It is compatible with all PSP's including Slim and Light.
This is an entry from the Neo Summer Coding Compo 2008 (PSP Applications, 4th place). It was also participated in the Scenery Beta 2008 (PSP Applications, 4th place), as well as the PSPUpdates Summer Homebrew Contest.
Features
Internet Time Synchronization with NIST time servers.
Currently the only Alarm Application compatible with ALL PSPs including PSP SLIM.
Sleep Mode Alarm with support for custom MP3 audio file.
Power Off Mode Alarm that plays sound in XMB with support for custom sound; consumes virtually 0% POWER.
12/24 Hr time formats.
Fully compliant with DAY TIME PROTOCOL (RFC-867) with support for Daylight/Standard.
More accurate time keeping than XMB's DNAS service, with network delay compensation; automatically adjusts for network delays of transmission from server.
Displays hours and minutes remaining as the alarm time is being set; updated in real time.
Alarm can be set up to 23 hours 59 minutes in future.
Alarm accurate to the second.
Streamlined, extremely easy to use interface.
Shows seconds & milliseconds.
Aligned time display (constant length).
Checks to make sure if an alarm was already set last time, if so, sets the alarm to that time. Reads time from ms0:/seplugins/HAPoweroffSupport.305 if it exists.
Installation
Copy HaSuite2 folder to GAME folder (with kernel set to 3.xx/4.xx) or to GAME4xx folder or just replace the folder that comes with this package.
Note from developer:
To use the Power Off Mode Alarm feature, you will also need to install HAPoweroffSupport Plugin (included in the archive).
Without this, Alarm will not play once unit wakes up from power off mode.
User guide
Sleep mode
To customize alarm sounds, place your MP3 sound file as Alarm.mp3 in the folder containing the EBOOT.
Power off mode
Require Hardware Alarm Poweroff Support Plugin (HAPoweroffSupport Plugin) in order to use this feature.
For Information of how to customize power off mode alarm sounds, please refer to [HOWTO]CustomAlarmSound_Plugin.jpg.
If you are going to use Power off Alarm, it is advised to set alarm when Time in Between 10 - 40 seconds.
Internet Time Synchronization
To define your Local Time Region for Internet Time Synchronization, see Config_Hasuite.ini.
Controls
Clock (No alarm set):
R - Alarm mode
Triangle - Options
Circle - Dismiss alarm
Alarm (Alarm mode):
L - Go back to the clock
D-Pad - Set alarm time
Cross - Confirm alarm time
Square - Show current time
Triangle+D-Pad - Change time display to minute by minute
Screenshots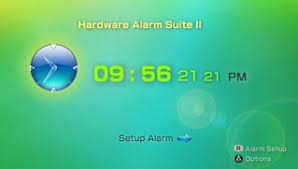 Compatibility
Developer stated that this is a 3.xx/4.xx Kernel application.
Known issues
If you are suddenly stuck in Internet Time synchronization and no dialog appears; press Triangle+Square will force quit.
This is extremely rare however and will not always happen; problem should be solved after next retry.
Changelog
v2.7 bld 1730 (Patch)
Before you couldn't cancel an alarm that had already been set, fixed.
v2.7 bld 1727
CORE: You can't change to Alarm set mode UNTIL you STOP the alarm.
CORE: As Per user feedback, You can now snooze for 5 mins, once the alarm is playing.
INTERNAL: Changes to graphics module to accomodate changes along with other optimizations and cleanups.
GUI: Improved exit/poweroff/sleep mode animation: Now uses 5 Random effects; Further smoothened animation -- no more choppy borders.
CORE: Now uses SQUARE to stop alarm; to make it more similar to Poweroff Alarm Module.
GUI: Changed intro.
v2.xx
CORE: Internet time synchronization added. Edit config_hasuite.ini according to your local region.
CORE: Power off Alarm NOW works on ALL FW's including 3.90+ (Cause: Changes made to scePower_service module since FW's 3.90+, one of the eventflag handling changed).
CORE: 24 Hour time system implemented as per users feedback! Keep 'em comin. You can choose between the two 12Hr/24Hr.
CORE: Added option to Toggle USB at any time; No more hassle of going back to XMB just for USB; Uses safe USB dismounting (no corrupt files or File System).
CORE: Alarm now also works in normal mode ie. even if PSP is not put to sleep or powered off (Best for PSP DOCKS /people who dedicate this application to their PSP's 24hrs).
CORE: In previous version, There was a 1% chance that unit woke up a minute after alarm time or not at all. Fixed. Now, 100% Probability that alarm wake up at all times.
CORE: Added Informative Message Dialogs for those not patient enough to read readme's carefully.
GUI: Every Single GFX recreated from scratch and edited pixel-by-pixel.
GUI: Major rework of color schemes with hand-picked colors to match the BG.
GUI: The colon now ticks every half-a-second.
GUI: Added nice subtle sounds to GUI.
GUI: Extensive changes to physics; now uses smooth scrolling.
GUI: Removed every trace of DebugText; now uses intraFont unless there's a fatal error.
CORE: You are now able to void(cancel) an alarm at anytime.
CORE: Power off Alarm time if existed in(ms0:/seplugins/Hapowersupport.305) was read but hours weren't correctly read, if hours were less than 10 ex: 09 would become 12 or 00 based on time format. Fixed.
CORE: Alarm, when resuming from Sleep Mode, was off by 1 second. Fixed.
CORE: Now, you can't set the alarm if it's invalid; this caused abnormal behaviour in previous version.
CORE: As a safety feature. The minimum duration of alarm is now 2 minutes.
CORE: Sometimes seconds or minutes went up to or above 60. Fixed.
GUI: Added an Option bar at bottom since OSD is fully crowded.
GUI: Changed Button texts to real button images.
CORE: Now shows detailed version info during splash.
INTERAL: Massive code cleanup.
INTERAL: Tighter (better) Memory management.
INTERAL: Miscellaneous bug fixes.
INTERAL: Fixed two places of String overwrite that incredibly rarely caused wrong time to be shown.
GUI: Home Exit Callbacks removed; you now have to use Option bar to exit.
MISC: New Name; New make-over.
v1.3 bld 359
Initial stable public release 06/17/2008.
Credits
Uses Intrafont by Benhur.
Uses pgeWav by Insert_witty_Name.
External links