PSPYape PSP
From GameBrew
PSPYape
General
Author
Zx-81
Last Updated
2007/03/01
Type
Computer
Version
1.0.3
License
GNU GPLv2
Links
Download
Website
Source
PSPYAPE is a port of Yape, an emulator of Commodore microcomputer family running on Windows and Unix.
The emulator imitates the C-264 (know also as Commodore Plus/4) model. Originally written by Attila Grósz and this is a port on PSP based upon the version v0.32.4 of Yape SDL.
Installation
Unzip the ZIP file, and copy the folder pspyape to ms0:/PSP/GAME/.
Put your program files on the prg sub-directory.
User guide
In the YAPE emulator window, there are three different mapping (Standard, L-Trigger and R-Trigger). You can toggle between in game using the two PSP trigger keys.
Load Program files (PRG)
Put your program file (with .zip or .prg file extension) on your PSP Memory Stick in the prg directory. Choose Load PRG inside YAPE emulator and select the program you would like to run.
Load Key Mapping files (KBD)
The default keyboard mapping between PSP Keys and C-264 keys, is not suitable for some games, and you can write your own mapping file to overcome the issue.
Using notepad for example you can edit a file with the .kbd extension and put it in the kbd directory. Please see default.kbd for the exact syntax of mapping files.
After writting your own keyboard mapping file, you can load them using the main menu inside the emulator.
If the keyboard filename is the same as the program file (.prg) then when you load this program file, the corresponding keyboard file is automatically loaded.
Furthermore you can use the Keyboard menu and edit, load and save your keyboard mapping files inside the emulator.
In that case the KBD file will be saved using the Game Name as filename. The game name is displayed on the right corner in the emulator menu.
Controls
C-264 (Standard):
Square - Space
Triangle - ENTER
Circle - 1
Cross - Joystick Fire
D-Pad - Up/Down/Left/Right
C-264 (L-Trigger):
Square - Space
Triangle - ENTER
Circle - Escape
Cross - Joystick Fire
D-Pad - Up/Down/Left/Right
C-264 (R-Trigger):
Square - Space
Triangle - ENTER
Circle - Y
Cross - N
D-Pad - Up/Down/Left/Right
Analog - Joystick
All mappings:
Start+L+R - Exit and return to eloader
Select - Enter in emulator main menu
Start - Open/close the On-Screen keyboard
Main menu:
R - Reset the emulator
Triangle - Go Up directory
Cross/Circle - Valid
Square - Go Back to the emulator window
On-Screen Keyboard:
Analog - Choose one of the 9 squares
Triangle/Square/Cross/Circle - Choose one of the 4 letters of the highlighted square
L/R - see other 9 squares figures
Screenshots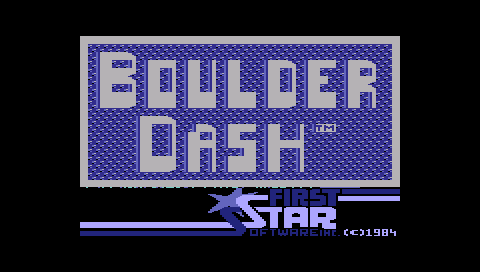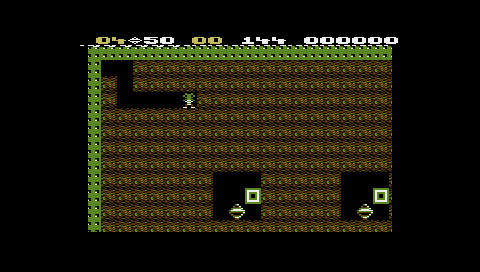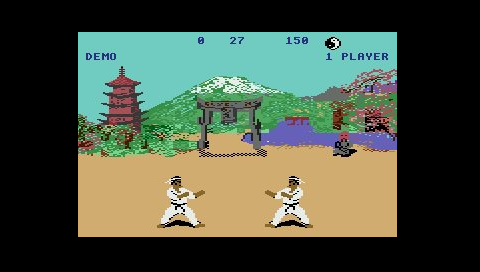 Compatibility
Developed for Firmware 1.5 and should also works for 2.x using eloader 0.99x (http://www.noobz.eu).
Changelog
v1.0.3
New graphical functions with new smoother render modes. It uses the PSP GPU for rendering, it does not run faster, but it's a lot smoother.
No need to reset anymore the C-264 before loading a new program (the game will load and start automatically).
Bugs fix & Code cleaning.
v1.0.2
Add new screen size (x1.25, x1.5, fit).
New icons designed by gelon.
v1.0.1
Credits
Yape: Yet Another Plus/4 Emulator (SDL version) by Attila Grósz.
PSPYape: Porting on PSP by Ludovic Jacomme alias Zx-81.
Special Thanks to gelon for the icons.
External links