PSPTI99 PSP
From GameBrew
PSPTI99
General
Author
Zx-81
Last Updated
2008/03/17
Type
Computer
Version
1.0.3
License
GNU GPLv2
Links
Download
Website
Source
PSPTI99 is a port of TI99Sim, which is an emulator of Texas instruments TI99 home computer TI99/4 model.
Originally developed by Marc Rousseau, it runs on Windows and Unix and this is a port on PSP of the version 0.1.0 of TI99Sim.
Installation
Unzip the ZIP file, and copy the folder pspti99 to ms0:/PSP/GAME/.
Put your cartridge images generated using software available on the Official Homepage of TI-99/Sim in the cartridges folder.
User guide
Key mappings
You can switch between different mappings in the emulator window (Standard, L-Trigger and R-Trigger):
Standard mapping.
Danzeff On-Screen Keyboard (by Danzel and Jeff Chen).​
Customizable IR Keyboard (from the file pspirkeyb.ini).
Load Key Mapping files (KBD)
For given games, the default keyboard mapping between PSP Keys and TI99 keys, is not suitable, you can write your own mapping file to overcome the issue.
Edit a file with the .kbd extension and put it in the kbd directory. Sample and syntax can be found in the file default.kbd.
Keyboard mapping file can be loaded in the main menu. If the keyboard filename is the same as the CTG cartridge file, the corresponding keyboard file is automatically loaded (when you load the cartridge file).
Use the Keyboard menu to configurate, load and save your keyboard mapping files inside the emulator. The Save option save the KBD file in the kbd directory using the Game Name as filename. The game name is displayed on the right corner in the emulator menu.
Controls
TI99 (Standard):
Square - Space
Triangle - ENTER
Circle - 1
Cross - Joystick Fire
D-Pad - Up/Down/Left/Right
Analog - Joystick
TI99 (L-Trigger):
Square - Fps
Triangle - Load state
Circle - Joystick
Cross - Save state
Up/Down - Up/Down
Left/Right - Render
TI99 (R-Trigger):
Square - Space
Triangle - Reset
Circle - 4
Cross - Auto-fire
Up/Down - Up/Down
Left - Dec-fire
Right - Inc-fire
Analog - Joystick
All mappings:
Start+L+R - Exit and return to eloader
Select - Enter in emulator main menu
Start - Open/close the On-Screen keyboard
Main menu:
R - Reset the emulator
Triangle - Go Up directory
Cross/Circle - Valid
Square - Go Back to the emulator window
On-Screen Keyboard:
Analog - Choose one of the 9 squares
Triangle/Square/Cross/Circle - Choose one of the 4 letters of the highlighted square
L/R - See other 9 squares figures
IR Keyboard:
D-Pad - Cursor
Start - Ctrl-W, Tab
Select - Ctrl-Q, Escape
Triangle - Ctrl-E
Cross - Ctrl-X
Square - Ctrl-S
Circle - Ctrl-F
L - Ctrl-Z
R - Ctrl-C
Screenshots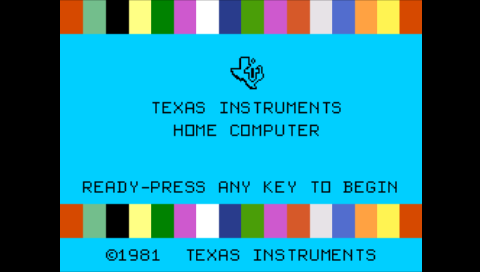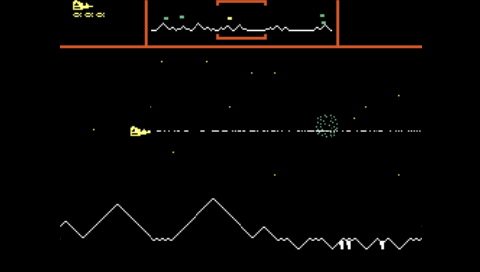 Compatibility
Developed for Firmware 3.71-M33.
Changelog
v1.0.3
Speed improvements.
Add vsync and autofire options.
Add several new hotkeys:

Settings such as fps, render mode, auto fire speed can now be directly modified inside the emulator (no need to enter in the settings menu).
Quick save / quick load current state (no need to enter in the main menu).

Default Hotkeys can now be set in the keyboard mapping menu (useful to add hotkeys on existing/previous keyboard files).
Bug fix in the low battery watchdog.
v1.0.2
Add save state feature.
Display and save thumbnail images for each save state.
Disable speech system (make the emulator to freeze).
Bug fix in the render function (dark screen).
v1.0.1
Credits
TI99sim:
PSPTI99:
Porting on PSP by Ludovic Jacomme alias Zx.
Special Thanks:
Danzel and Jeff Chen for the virtual keyboard, and to all PSPSDK developers.
External links