PSPInt PSP
From GameBrew
PSPInt
General
Author
Zx-81
Last Updated
2007/09/28
Type
Console
Version
1.1.0
License
GNU GPLv2
Links
Download
Website
Source
PSPInt is a port of Jzintv, which is an emulator of the Intellivision video game system, running on many systems such as Linux, Unix, Windows and MacOS.
This port is made by Ludovic Jacomme (aka Zx-81) and DrNicket, based on the version 20051204 of Jzintv.
Installation
Unzip the ZIP file, and copy the folder pspint to ms0:/PSP/GAME/.
Put your rom image files on the roms sub-directory.
User guide
Load Intellivision Rom files (ZIP, ROM, INT, ITV, BIN)
If you want to load rom image in your emulator, you have to put your rom file (with .zip, .rom, .int, .itv or .bin file extension) on your PSP Memory Stick in the rom directory.
Then go to the emulator main menu and use the file selector choose one rom file to load in your emulator.
Load Key Mapping files (KBD)
The default keyboard mapping between PSP Keys and Intellivision keys, is not suitable for some games and you can write your own mapping file to overcome the issue.
Edit a file with the .kbd extension (using any text editors) and put it in the kbd directory. Samples and syntax can be found in default.kbd (in the kbd directory).
After writting such keyboard mapping file, you can load them using the main menu inside the emulator.
If the keyboard filename is the same as the rom filename, then the corresponding keyboard file is automatically loaded when you run the rom/game.
Use the Keyboard menu to further configure, load and save your keyboard mapping files inside the emulator.
The Save option saves the KBD file in the kbd directory using the Game Name as filename. The game name is displayed on the right corner in the emulator menu.
Controls
Intellivision:
Square - KP1
Triangle - A-T
Cross - A-L
Circle - A-R
Up - D-N
Down - D-S
Left - D-W
Right - D-E
L - RESET
R - KPE
Analog - J-N/J-E/J-S/J-W
Start+L+R - Exit and return to eloader
Select - Enter in emulator main menu
Start - Open/close the On-Screen keyboard
Main menu:
L+R+Start - Exit the emulator
R - Reset the Intellivision console
Triangle - Go Up directory
Cross/Circle - Valid
Square - Go Back to the emulator window
On-Screen Keyboard:
Analog - Choose one of the 9 squares
Triangle/Square/Cross/Circle - Choose one of the 4 letters of the highlighted square
Screenshots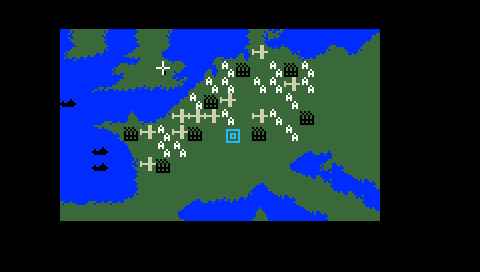 Compatibility
Developed for Custom Firmware 3.40-OE.
Changelog
v1.1.0
Compatible with custom 3.x firmwares (and hopefully with PSP slim).
Add Intro Splash screen.
Support iso8859-1 fonts in print text functions (might be useful to translate menus in german, french).
Bug fix in file requester.
v1.0.9
Bug fix in Rom file requester (PSP hangs when the rom list was big and already sorted).
Add help menu.
Screenshots are now saved in PNG format.
v1.0.8
v1.0.7
Emulator menus reorganisation (new menu for settings).
Icons and background images modification.
The percent of battery left is now displayed in the emulator window.
Add a watchdog to automatically return to the emulator menu when the battery is very low (< 5%).
New feature to save and load a distinct setting file for each games.
Delete files option (in the file selector).
v1.0.6
Add keyboard change skin option.
Add different keyboard kins from DrNicket.
v1.0.5
New virtual keyboard (by DrNicket).
v1.0.4
Second joystick support.
Add keys to the virtual keyboard.
Option to toggle between players.
v1.0.3
v1.0.2
Add .int and .itv as valid extention for rom files.
Add exit menu.
v1.0.1
Credits
Jzintv:
Emulator of the Intellivision videogame system by Joe Zbiciak.
PSPInt:
Porting on PSP by Ludovic Jacomme (aka Zx-81).
Thanks to:
DrNicket for the help and support.
Danzel and Jeff Chen for the virtual keyboard, and to all PSPSDK developers.
External links