PSPBillards PSP
From GameBrew
PSPBillards
General
Author
slicer4ever
Last Updated
2008/08/21
Type
Board
Version
2 adhoc
License
Mixed
Links
Download
Website
PSPBilliards is a pocket version of billards on the PSP, featuring AI opponents and supports Ad-hoc.
It was one of the contest entries for the Neo Summer Coding Compo 2008 (PSP Games, 3rd place) and PSP-Hacks Homebrew Idol in 2008.
User guide
It follows the rules of 8 ball pool game.
Aim your pool cue and the goal is to pocket the colored pool balls of your type, while preventing your opponent from doing the same.
After you pocket all seven of your pool balls, you need to pocket the eight ball (black ball) to win.
Pocketing the cue ball (white ball) will end your turn; you will lose the game if you pocket the black ball before the collecting rest of the balls of your type.
Controls
Menu:
D-Pad Right - Move option right
D-Pad Left - Move option left
Cross - Accept
Circle - Exit options (Options, Credits, How To)
In game:
Analog - Move the cursor
Cross - Launch the cue ball
Circle - Cancel the launch
Triangle - Show/Hide information
Screenshots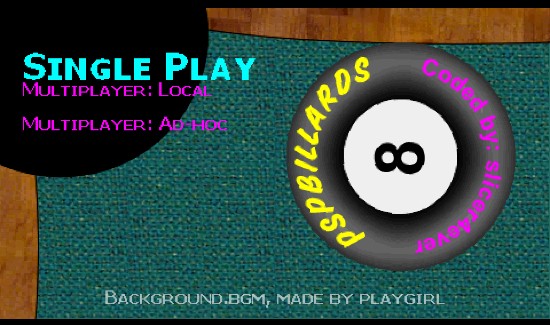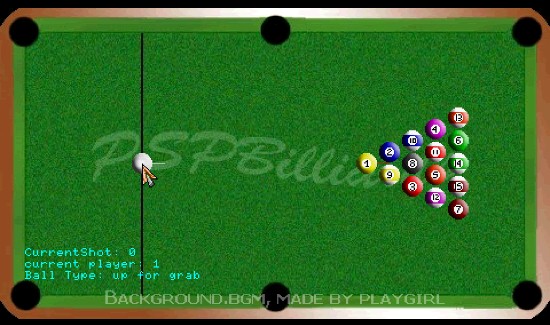 Known issues
Adhoc feature is laggy.
Changelog
v2 Adhoc Support
Ball's now rotate.
Background music scanned from music folders.
Score card(idea from halokilla i believe not 100% sure correct if wrong).
Multiple pool tables(every table in the poll is added to the choosable).
All controls work.
ADHOC, yes that's right you can now play against your buddy on his PSP (note: this is not 100% stable and may crash, and it is kinda laggy, please bare with it).
Much more.
External links